USAID adviser challenges students to change world
The nexus of science and development has immense potential for solving international development's greatest challenges, and William & Mary students have the opportunity to be at the forefront of that movement. This was the appeal by Alex Dehgan, science and technology adviser to the administrator at U.S. Agency for International Development (USAID), as he addressed W&M students and faculty on Feb. 11.
Dehgan discussed the difficulties the world faces due to rapidly increasing demands for food and energy, the detrimental effects of climate change, and emerging disease risks. He cautioned that globalization and technological connectivity mean that these challenges, which have traditionally disproportionately impacted developing nations, are now transnational issues affecting the global population.
He then turned his attention to how technological advances, increased connectivity, exponential growth in computing power, and the production of enormous amounts of data have laid the groundwork for innovations that can potentially solve these development challenges. Dehgan pointed to the vast possibilities for providing healthcare in remote areas of the world through inexpensive, compact devices and technologies such as cell phone microscopy and the use of SMS technology to map political crises to illustrate how we can leverage modern science and technology to meet the challenges of a modern, globalized world.
"Dr. Dehgan illustrated the how the development community can unleash the power of scientific innovation to improve our understanding of the most pressing development problems and to begin to identify solutions to these challenges," said Alena Stern '12, who is a project manager at W&M's AidData Center for Development Policy.
The USAID Office of Science and Technology recognizes the need for high-quality, spatial data to visualize and analyze the distribution and impact of these development interventions, and Dehgan remarked upon the tremendous value of the geospatial research AidData is conducting at William & Mary. AidData recently received a $25-million award to establish the AidData Center for Development Policy, one of seven university-based development labs that will be a part of the USAID Higher Education Solutions Network and are tasked with developing new science, technology, and engineering approaches to solve some of the world's most challenging development problems.
Deghan went on to suggest that a new approach is needed in higher education. Rather than compartmentalizing knowledge and research into academic departments, which inhibits cross-fertilization among scholars with different backgrounds, he proposes a problem-driven approach that will encourage scholars with different backgrounds to collaborate and address challenges like poverty, disease and climate change.
"The current model of higher education is medieval and risk-averse. The development labs (including the AidData Center for Development Policy) encourage universities to be open, creative, multidisciplinary and entrepreneurial," Dehgan said, stressing the importance of leveraging talents and technologies across disciplines, universities and countries. "We are able to admit we do not have all the answers, but we are incentivizing new technologies and forcing the agency to think what the problems are."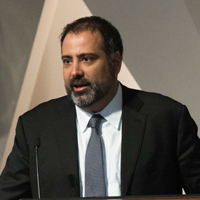 He also challenged undergraduate students not to leave the problem solving to their professors but to think innovatively themselves. He noted that one of the most exciting innovations in global development, Gram Power -- which uses smart microgrid technology to provide power to places where electricity was previously unavailable, prohibitively expensive or frequently interrupted -- was developed by undergraduates.
Alex Miller '13 admired the way Dehgan looked to NASA's Curiosity Rover and the difficulties with landing in the Martian atmosphere as a model for USAID and university collaboration.
"You would expect a NASA scientist to come up with the solution, but a Caltech student developed it," Miller said. "So (Dehgan) thought if USAID can do that with other U.S. institutions then the partnership between AidData and USAID can accomplish the same thing."
Dehgan concluded his address by issuing a challenge.
"Dare mighty things," he said, and charged the faculty and students to look beyond structured curriculums to interdisciplinary studies and online sources of open knowledge.
Throughout the day, Dehgan met with representatives from AidData including several groups of undergraduate research assistants who delivered presentations on recent geocoding initiatives and the student-led Media Based Data Collection Project on Chinese aid to sub-Saharan Africa.
This lecture was co-sponsored by the Institute for the Theory and Practice of International Relations and AidData Center for Development Policy.