TRIP Project receives $307,500 grant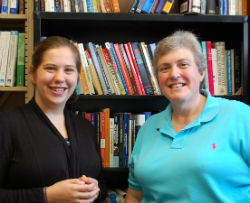 Researchers with The Teaching, Research and International Policy Project (TRIP) at William & Mary's Institute for the Theory and Practice of International Relations have received a two-year grant of $307,500 from the Carnegie Corporation of New York.
TRIP researchers are analyzing the international relations (IR) discipline to determine whether its scholars are providing ideas, data or knowledge that is useful to policymakers and citizens in the 21st century. The grant paves the way for them to build on the project's previous success by supporting two major initiatives that aim to improve interactions between IR theorists and practitioners and enable scholars to influence decisions that affect people across the world.
With Carnegie's support, the TRIP project, already well known for its surveys of scholars and policymakers, will be expanded to include a series of "snap polls" that will facilitate the rapid dissemination of academic expert opinion on emerging international issues and current events to policymakers and the public.
"The beauty of the 'snap polls' is that we can get them into the field quickly and get results to decision-makers almost in real-time," said Sue Peterson, TRIP principal investigator and co-director of the Institute for the Theory and Practice of International Relations. "Because the information will reach policymakers quickly, these polls will contribute to policy debate and decision-making as international events unfold."
According to Peterson, the "snap polls" will be an invaluable resource to scholars as well.
"Usually, the best we can do is go back and ask the experts what they thought about an issue after the fact," she said. "Now, for the first time, scholars and policy officials will have access to scholarly opinion on a range of important international problems and issues as they evolve."
The grant will also support a conference that brings together representatives from the academic and policy communities to explore ways to enhance the information, analyses and training the academy provides to U.S. policymakers. The two-day conference is planned for spring 2014.
"If we are working to improve the interaction between scholars and policymakers, there is a huge advantage to getting them together in the same room," said Mike Tierney, TRIP principal investigator and co-director of the Institute for the Theory and Practice of International Relations.
"There are plenty of conferences that bring scholars together to lament the fact that their work is ignored by the policy community. This conference is exciting because we will bring together leading scholars, along with current and former policymakers, to explore the conditions under which research has an impact and what scholars can do to make a contribution to the policy world if they are so inclined."
Participants in the conference will have access to a wealth of data on the discipline of international relations, already collected by TRIP, including surveys of international relations faculty in 20 countries, surveys of U.S. policymakers and the world's most comprehensive database on IR journal articles. The database includes extensive details on every article published in the 12 leading IR journals from 1980 to the present. This resource will help policymakers to access academic research on topics relevant to their work and is already being used by scholars to identify trends in academic literature – like which regions, issue areas, and time periods are studied by IR scholars and what methods, theories, and approaches do they employ in their research.
Peterson and Tierney's team also includes two other principal investigators, both former students. Daniel Maliniak is a Ph.D. candidate at the University of California, San Diego, and Ryan Powers is a Ph.D. student at the University of Wisconsin, Madison. Both Powers and Maliniak are integral members of the TRIP team who will visit campus regularly to conduct research for the grant, work with W&M undergraduates, and to participate in the 2014 conference.
According to Maliniak, in many other areas, expert opinion has become an institutionalized part of the policy conversation. This is what TRIP is working to achieve in international relations.
"Macro-economists are routinely surveyed to provide their opinions on how some change in tax policy will impact economic growth. Climate scientists are surveyed and their collective opinions shape the debate on climate change policy in both domestic and international forums. Now we will be able to leverage the wisdom of another crowd – IR experts."