Stoicism serves Farrell well in life and on the field
William & Mary pitcher John Farrell's philosophy on the mound and in life isn't too much different from many of his fellow athletes. He focuses only on the things he can control, not umpires, fielders, opposing batters, fans, or anything else. Throw the best pitch possible, that's his motto.
Call it the ball diamond version of Stoicism, loosely defined as learning to develop self-control and fortitude as a means of overcoming destructive emotions.
It's how Farrell '13, a neuroscience major who led the Tribe (37-22) into Friday's start of the NCAA regional tournament at North Carolina State, came by that credo that's out of the ordinary.
Meet Marcus Aurelius, Roman Emperor from 161 to 180. The last of the
"Five Good Emperors,"
Aurelius was described by the late English classicist Michael Grant as "the noblest of all the men who, by sheer intelligence and force of character, have prized and achieved goodness for its own sake and not for any reward." Considered one of the great Stoic philosophers, his epic 12-book work,
Meditations
, stresses a life of service and duty.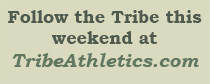 Farrell's dad, John, told him about Stoicism years ago. He thought it was something young John would find interesting. In researching it, Farrell stumbled onto Aurelius' writings and decided that, for the most part, the emperor espoused a philosophy he could live by.
He says that it has helped through several life crises, including his mother Laurie's successful battle with breast cancer. Heaven knows it has helped him on the pitcher's mound.
Farrell, a first-team All Colonial Athletic Association selection, posted an 11-2 record – he's the first Tribe hurler since 1938 to win 10 or more games -- with an earned-run average of 2.80 and 86 strikeouts versus just 13 walks. After last weekend's CAA tournament in which he pitched twice, Farrell probably won't start Friday at 2 p.m. when W&M opens with Mississippi of the Southeastern Conference, also 37-22. If not, he'll pitch Game 2 the following day.
All of the games can be viewed on ESPN 3.
"When you're pitching, you can't control if the umpire calls a ball or a strike, can't control how the fielding goes behind you, can't control the hitting," he said. "All you can do is make good pitches. That's my main focus when I'm pitching, to make good pitches. I don't even try to throw strikes, don't try to win the game for my team, just make good pitches.
"When I can get my mind to focus on something as simple as that, it kind of tunes everything else out and becomes my only focus. It keeps my anxiety and stress levels down."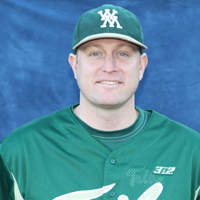 A senior, Farrell made a remarkable transition this season from record-setting reliever to ace pitcher. His first three seasons, the Massachusetts native set a school record with 14 "saves," was named to the CAA All-Rookie team in 2010 and honorable mention All-CAA in 2011 – yet felt ambivalent about his role on the team.
When last season ended, Farrell went to the coaching staff and asked for a chance to crack the starting rotation in 2013.
Jamie Pinzino
, who later was promoted from pitching coach to head coach, agreed.
"I worked with him last year and he had a great year out of the bullpen," Pinzino said. "We talked about the potential to move him into starting rotation. We wanted it because we want out best pitchers pitching as many innings as possible. We had all the faith in the world that he could do it."
Farrell started the transition in the Cape Cod Summer League. His coach there, Harvey Shapiro, allowed him to stretch the length of his outings from one inning to as many as three or four. Farrell struggled in the fall, and didn't have a sharp spring, Pinzino said.
"But from opening day to the tournament, he's been our best pitcher," Pinzino said. "His numbers are amazing, but it's not just the numbers. He's obviously got very good stuff, fastball, slider, change. But I really like the way he competes on the mound, and it's been a really good thing for our young pitchers to see.
"You're not always going to have your best stuff; there are going to be good innings and bad innings. You've got to find a way to get through that. There have been games where he's almost willed himself to get through that sixth or seventh inning when he's begun to tire a bit. That's an impressive thing. Not everyone can do it, but John has that ability."
Farrell credits his teammates with helping him achieve that gaudy record by giving him ample run support on the days he's pitched.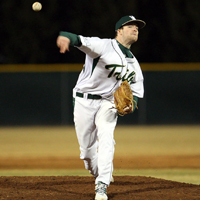 "(Winning 11) isn't something I set goals on," he said. "I just wanted to give the team the opportunity to win every time I pitched. I just love to compete. It's so much fun, the closer to game the more fun for me. It's not what I expected, but I knew I was capable of a decent amount of wins, maybe seven or eight."
The Tribe is back in the NCAAs for the first time since 2001. Last year, the club won 31 games, but seemed to find ways to lose its most critical contests. This year, that trend has been reversed.
"Leadership is the biggest (difference)," Farrell said. "Finding a way to win comes from leadership and atmosphere in the dugout. We're more relaxed in close games, and that's both player and coach-driven. People are more loose and relaxed this year. When you play tight and stressed out, you make mistakes."