Sadler displaying Min Li's paper-cutting artwork
A spectacular exhibit of Chinese paper cutting, both traditional and a form called "Neo Realism," is on display in the second floor lounge area of William & Mary's Sadler Center until Nov. 18.

Brought to campus by the William & Mary Confucius Institute, Special Projects manager Ursula McLaughlin of the W&M Muscarelle Museum of Art was instrumental in the installation of the exhibit.
According to information supplied by the Confucius Institute, paper cutting is one of the most distinctive forms of Chinese art, and to this day is taught to Chinese schoolchildren. Traditionally, it was part of girls' work. Patterns were inherited through families from grandmother to mother to daughter.
Today, paper cutting is still used on numerous occasions such as funerals, weddings, festivals and ceremonies. Among all kinds of different paper cutting, Yuxian paper cutting is one of the most distinctive traditional paper-cutting arts.
There is meaning in each detail. Recurring symbols like flowers and fish hold just as much impact as the Chinese characters incorporated into different patterns, conveying positive messages such as being plentiful and prosperous throughout the year. Traditional cuts also feature very stylized, often exaggerated depictions of people and animals.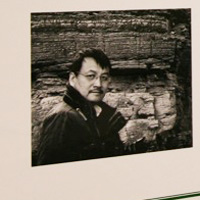 At the Sadler Center, the 14 pieces of this distinct, intricate art were created by Min Li, the 59-year-old artist who first developed the New-Realism style. Born in the southern province of Fujian, much of his work focuses on Northern China scenes. He mixes western painting with traditional Yuxian technique to achieve a three-dimensional perspective.
As famous as he is popular, in 2009 he was invited by the Chinese Ministry of Foreign Affairs to produce portraits for President Barack Obama and then-Secretary of Defense Robert Gates, now Chancellor of William & Mary.
Neither of those pieces is part of the display, but Li offers startling examples of both traditional and Neo Realism.
The exhibit begins with a classical piece entitled "Lucky Pig," a wide-eyed, almost smiling, vibrantly red animal surrounded by pomegranates and peonies. Every element is there for a reason.
"The color of red is a lucky color to drive away the devils and demons that bother people's lives," explained Lei Ma, deputy director of the W&M Confucius Institute. "New Year is a time for family reunions; people like to stay safe inside. So we paste something red on the window and on the door to guard the safety of the people."
Added Ying Liu, assistant director of WMCI, "Peonies are a symbol of prosperity in Chinese culture. And the pomegranates are the Chinese symbol for abundance."
Just a few feet away are a variety of Neo-Realism scenes, animals grazing near a small pond, a Northern China farmhouse and barn blanketed in the season's first snowfall, a deserted mill likewise covered in snow.
"The theme is still the agricultural scenery in farmland and village, so that carries out people's wish that life could be like this," Lei Ma said.
The colors vary from sienna to lime green to clear-sky blue, testimony to the more-labor intense cutting and layering process that Neo Realism requires to achieve its unique view. These works can't be copied or mass-produced, as each is designed, measured and produced by hand.