Raising hope: Nicole Lewis '03 empowers teen parents to complete college
The following story originally appeared (pdf) in the spring 2013 issue of the W&M Alumni Magazine – Ed.
When Nicole Lynn Lewis '03 became pregnant at 17, it felt as though everyone around her thought her life was over. "People would tell me, 'You're not going to college. You're not going to make it. Everything you've worked for is over,'" she remembers. But Lewis did make it. She applied and was accepted to college and graduated from William & Mary four years later with a bachelor's degree in English.
Now, Lewis lives in Maryland with her husband and two daughters. She has a master's degree in public policy and is the founder and CEO of an up-and coming nonprofit organization. But Lewis has not forgotten the obstacles she had to overcome as a single parent; instead, she has dedicated her life to helping other young women who are trying to balance parenthood and schoolwork. Generation Hope, the nonprofit organization she founded in 2010, provides emotional and financial support for young single parents pursuing higher education.
Although it has been 10 years since her graduation, Lewis remembers the conflicted emotions that overwhelmed her when she arrived at the College with her 2-month-old infant daughter, Nerissa. "My first memory is stepping on campus for the first day as a freshman and being overwhelmed because it had taken so much for me to get to that point," Lewis says. "I remember kind of looking down at my feet and feeling like these feet didn't belong on this campus."
Despite her challenging circumstances, Lewis thrived at William & Mary. "It was a wonderful place to raise Nerissa," she remembers, "and for me to come into my own and learn what kind of person I wanted to be." She found support in professors and a close group of friends, who quickly became such a part of her extended family that her daughter calls them her aunts to this day. She even met her husband, Donté '03, a football player at whose games she remembers cheering.
Even with her friends' support, life as a teen mother was challenging. Lewis received emotional encouragement from her parents and a favorite high school teacher, but had difficulty finding a support system in Williamsburg. "At times, it was a very lonely experience. As much as I had great, wonderful friends, being a parenting student is an experience that not everyone can understand. There were times when I felt very much alone."
After graduation, Lewis got a job working in public relations for a top insurance company. When her coworkers found out about her background as a teenage parent, they urged her to share her success story with others. "I was hesitant at first because telling my story meant sharing a lot of intimate details about my life and opening up to the world," says Lewis, "but I prayed about it and I knew it was something I needed to do to help and inspire other teen parents."
The result was Glori: A Different Story, a gritty but inspiring memoir published by Lewis in 2007. Although publishers had doubted its commercial appeal, the response to the book was phenomenal. Lewis was invited to speak to audiences around the country, but one visit stands out in her memory. "After a talk, a young mother came up to me and told me that she never thought about college as a possibility until she read my book. That blew my mind! I realized that more teen parents need to know college is a reality and an option for them."
Lewis began to consider the possibility of starting an organization to help teen parents achieve their academic goals. In researching the issue, she found a shocking statistic from the National Campaign to Prevent Teen and Unplanned Pregnancy. "Less than 2 percent of young women who have a baby before age 18 go on to get their degree before age 30," she explains. "It means that 98 percent of teen mothers are not getting a degree before age 30 and they and their children are suffering."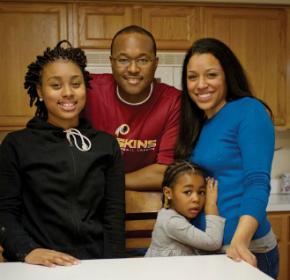 One night, when discussing family finances, Donté asked her if she felt like she was doing what she was called to do. That night, in what she remembers as a very "natural and organic" process, Lewis drew up the business plan for Generation Hope. "My college degree transformed my entire life," she says. "Before college, I was living place to place. Sometimes I didn't have food to eat. It was a really scary, desperate time. But after college, I was able to provide my family with resources I couldn't have otherwise. I wanted that same experience for other teen parents."
Now in its third year, Generation Hope is a unique nonprofit organization that provides financial aid and mentors to teen parents attending college in the Washington, DC metro area. Programs that support higher education for teen parents as part of a larger goal exist, but Generation Hope is a rarity — an organization whose sole purpose is to fund the postsecondary education of teen mothers. Teen mothers participating in the program are assigned a mentor and tuition assistance. The program, which stays with mentees until their college graduation, supported 17 mothers in its first year and has since added 11 new scholars.
In addition to supporting current parenting college students, the organization also hosts an annual Hope Conference, designed to unite current scholars and pregnant or parenting high school students. "The goal is to get them to consider college as a possibility," Lewis says. "We want them to know that even though you're a teen parent you can go to college."
When asked about the rewards of her job, Lewis is overwhelmed. "I think there's a moment every day that makes it worthwhile for me," she says, citing the achievements of the organization's scholars as well as the foundation's family strengthening activities that unite mothers and children.
Still, she admits, the most rewarding aspect is receiving thanks from the scholars themselves. "Having a scholar say thank you is an overwhelming moment because you realize that for that one individual, we're making a huge impact." One such moment has stuck with her. Lewis recalls, "I was sitting across the table from one of our scholars and she told me I was her hero. It hit me how big of a deal Generation Hope is. It's a lifechanging organization. It was an amazing moment where I felt the magnitude of what we're doing."
In the coming years, Lewis hopes that Generation Hope will continue to grow and envisions similar programs in cities around the country. She is well on her way. The organization has received emphatic support in the Washington, DC area, where it has been featured in several newspapers and magazines ranging from The Washington Post to Woman's World Magazine. Lewis herself has appeared on "NBC Nightly News" as well as "The Steve Harvey Show." She attributes the organization's success to its unique mission. "We have been fortunate enough to get some great media exposure because we're focusing on a major need," she says.
Lewis returned to the College for Homecoming 2012 with several friends from the Class of 2002. "It's amazing to come back 10 years later and see how your life has changed," she remarks. "Ten years ago, I was just trying to make sure I was getting through college and being a good mom, and now I'm helping other parents."
Although her life has changed unbelievably in the 10 years after leaving the College, Lewis' main motivation remains the same. "Nerissa was my main motivation when I was in college," she says. "Getting my degree wasn't really about making more money or putting something up on my wall; it was about providing her with a good life and showing that anything is possible, that she can do whatever she puts her mind to. I wanted her to see that in me, so I'm thankful that I was able to go and get my degree. I'm praying and hoping that she'll know through my experience that whatever she puts her mind to — no matter what people say — she can do it."