Ickes, students continue work in East, Southern Africa
Scott Ickes' commitment to making Uganda a healthier place to live is seven years old and going strong.
Over the last year, Ickes '04, an assistant professor of kinesiology and health sciences, has begun to develop the East and Southern African Nutrition Initiative (ESANI), a partnership among William & Mary, the AidData Center for Development Policy, the Medical College of Malawi and Makerere University School of Public Health to conduct research and develop an education program in the area of child nutrition and global health.
In March 2012, Ickes was awarded a Reves Faculty Fellowship by the Reves Center for International Studies and used that opportunity to return to Uganda, as well as Malawi and Tanzania, and work with a half-dozen W&M undergraduate students on a variety of health-oriented research projects.
"This region of the world continues to experience some of the most pressing public health and nutrition challenges," Ickes said, "and yet there are a lot of research and development efforts in the countries in this region.
"When I found out about the Reves Faculty Fellows, I couldn't pass up an opportunity to establish early in my tenure as a faculty member what I came back here to do -- to work closely with undergraduates to create meaningful research experiences that can affect real world change."
In Uganda, Ickes teamed with Emily Mahoney '15 during her project to map and classify nutrition projects. They traveled to meet with senior officials at the World Food Programme, the Ugandan National Planning Department and The World Health Organization.
"By the second meeting, Emily took over and was explaining the importance of her study and garnering buy-in from senior officials at these organizations," Ickes said. "Her work has prompted a meeting on this very topic that will take place in Nairobi, Kenya this November."
Laura Pugh '15, Tim Wright '15 and Ickes studied the social and cultural influences of child feeding especially if and how mothers' ability to make decisions for their children and households affects their children's nutrition.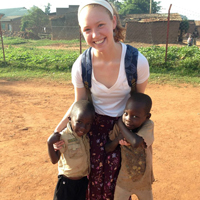 In Malawi, Taylor Hurst '12 and Christy Craig '14 started a study to examine a novel therapeutic food to treat childhood malnutrition.
Mahoney and Alison Roberts '15 studied the Scaling Up Nutrition (SUN) process in Uganda and Tanzania, respectively. SUN is a global movement of efforts to reduce malnutrition in developing countries through improved governance of local programs and by developing strategic national plans to meet local needs. That work is related to work that Ickes is doing with the AidData Center for Development Policy at W&M.
"For a university of our size, we have a tremendous international footprint," Ickes said. "I am also a strong believer in studying abroad, especially when these experiences involve research and community participation.
"(Undergraduate students at W&M) can do brilliant work, and the beautiful thing about the College is that they don't have to wait in line behind graduate student to get the opportunity."
Wherever they were, a typical day involved interviewing caregivers in their homes or at health centers in the case of the qualitative research. The main data collected was demographic and qualitative data from interviews with father and mothers concerning household roles, marriage patterns and social and cultural influences of child nutrition. The results from this work will be used to develop a survey that will be rolled out next month.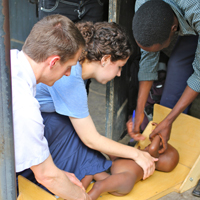 In some of the focus groups at health centers or in community centers, Ickes told a series of hypothetical stories about Ugandan women and the challenges they face to exercise autonomy in marriages and in caring and feeding their children. He asked women to respond to these stories, describing how certain scenarios would normally resolve in their communities.
"Even when working through a translator, I knew immediately that the conversation had hit on an important point," Ickes said. "I have been working on the theoretical framework to support this research for over two years. I was finally here doing the work, and behold, the questions had some significance in this community."
Meanwhile, Mahoney and Roberts met with officials in United Nations or government offices. In addition, Mahoney led trainings on using geospatial data analysis software.
"My goal for (ESANI) is to increasingly fuel collaborations between researchers at W&M and at Makerere and the Medical College of Malawi that will address nutrition-related problems in East and Southern Africa," Ickes said  "I ultimately want to create a formal academic program that can co-enroll W&M students and students from these two African universities that would allow students to have a classroom and field research experience."