Director's experience as Falstaff informs 'Merry Wives' production
When Professor Richard Palmer became director of William & Mary Theatre's upcoming performance of Shakespeare's The Merry Wives of Windsor, no one knew about his unique connection to one of the main characters. 
In November 1981, Palmer portrayed the comic, corpulent Falstaff in the W&M Theatre department's production of Shakespeare's Henry IV, Part 1.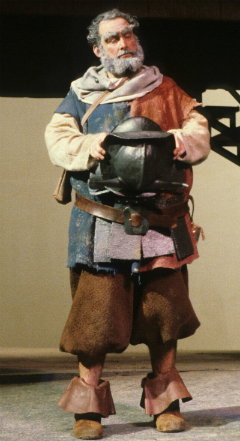 "I was trying to keep that under cover, but one of my colleagues unfortunately released a picture which some of the cast got hold of, so they found out about it," Palmer said.
Falstaff, a character who disavows seriousness and revels in his obesity, according to Palmer, appears in Henry IV Part 1 and Part 2 as well as Merry Wives.
"Many people argue that the Falstaff in Merry Wives is not the same Falstaff as the one in the history plays, but I think that's a mistake. One gets a sense of that only from having done it and seeing what the commonality is of those characters from play to play. I've been in the skin of that character and therefore had some insight into how, in Shakespeare's mind at least, the character acts," Palmer said. 
Portraying Falstaff as an actor, while offering considerable insight into the nature of the character, also presented some challenges to Palmer's direction. 
"As an actor, it's a whole different process. You're much more concerned with the moment and your relationship with who's standing in front of you. As a director, you have to take a wider view. This play is not called Falstaff—it's called The Merry Wives of Windsor, so it's about a lot more than Falstaff. Falstaff is one character in this mix," he said. 
Because the Virginia Shakespeare Festival occurs every summer at the College, the theatre department only produces Shakespeare plays every two or three years. This time, the department wanted to highlight one of Shakespeare's less performed works.
"There was a sense that it was time to do Shakespeare again to give our students the experience of doing Shakespeare," Palmer said. "Merry Wives is not done that much now. For a long time, it was the most popular of his comedies. In the 20th century it's been less popular, maybe because it's not quite as pretentious."
While those students working on the play are receiving experience producing Shakespeare, Merry Wives is not as dour or thematically intense a work as other Shakespearean plays such as Othello or Hamlet. 
"The students are juggling pretty rigorous academic loads along with up to 18 or 20 hours of rehearsal each week, so the process needs to be fun, and I think it has been for us—it's a farce! It's slapstick, people are falling over one another. It's not exactly demanding intellectual stuff," Palmer said. 
Merry Wives will be performed at PBK Hall at 8 p.m. on Feb. 21, 22, and 23, and at 2 p.m. on Feb. 24. Tickets can be purchased at the PBK Hall box office. For more information, visit the box office website.