DEEPSEA CHALLENGE member Christina Symons to speak April 22
Christina Massell Symons, famed geoscientist and pilot of deep submersibles, will offer an Earth Day lecture entitled "Women in Science: From the Seafloor to the Stars" on April 22 at William & Mary's Sadler Center Auditorium.
Symons, who earned her Ph.D. from the Scripps Institute of Oceanography, will speak from noon to 1 p.m., with a reception to follow. It is free and open to the public.
Symons will discuss her experiences as Science Coordinator of the
DEEPSEA CHALLENGE
Expedition, which included the first solo descent to the deepest place on earth - Challenger Deep in the Mariana Trench - more than 35,700 feet below sea level.

She will talk about her experience investigating the seafloor using submersibles, Alvin and Avalon, and her more than 200 days of research at sea mapping the ocean floor that led her to become a member of the DEEPSEA CHALLENGE science team.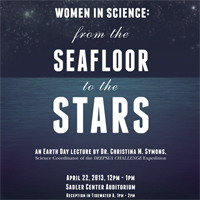 Likewise, Symons will share what prompted her interest in science, why it opens the doors of exploration on earth and beyond, and what led her to explore the deepest ocean trenches and their connection to the stars.
After getting her masters from the University of Texas, Symons joined a team studying the tectonics of the Pacific-Australian plate boundary south of New Zealand. Later, she returned to continue the collaboration as a postdoctoral researcher with Mobil and later Texaco. Those summer internships stimulated a growing interest in global climate change.
Currently, Symons and a team of Scripps Institute of Oceanography scientists are developing a digital library of resources for Earth science education. This collaborative effort among SIO scientists, UCSD librarians, K-12 educators and data managers is an initiative within National Science Foundation Digital Library program.
For more information, contact Ken Kambis, kwkamb@wm.edu or (757) 221-2779.