Azerbaijan ambassador visits Reves Center
The faculty, staff and students of William & Mary received an unusual Valentine's Day gift, a visit from Elin Suleymanov, ambassador from the Republic of Azerbaijan to the United States.
Azerbaijan is a small country, with a land area just slightly smaller than the state of Maine. Situated between Iran and Russia and bordering the Caspian Sea, it is also in the unique position of being "where East meets West," literally.
This unique position was one of the themes of Suleymanov's conversations throughout his visit. Prior to delivering a lecture open to the university community, he met privately with residents of
Reves Hall
, William & Mary's international living-learning community, for a candid discussion of international affairs.
"The region of Eurasia is undergoing a great transition, different from that transition after the fall of the Soviet Union because the world is different, and Azerbaijan's role in the region and the world is different," Suleymanov told participants of the small group meeting, before outlining Azerbaijan's history and opening the floor to questions.
Students took advantage of the opportunity to question the ambassador, addressing topics as wide-ranging as Azerbaijan's participation in Eurovision and its relationship to Europe, to Azerbaijan's relationships to Israel and Iran, to the country's philosophy on environmentalism.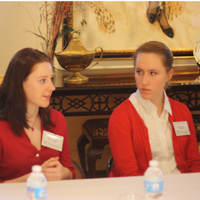 When asked how students could prepare themselves for a life of foreign service, Suleymanov recommended a study abroad experience or serving in the Peace Corps.
Suleymanov is no stranger to studying abroad himself. Before being named Ambassador to the United States in October, 2011, he earned graduate degrees from the University of Toledo and The Fletcher School of Law and Diplomacy at Tufts University. He was the first Azerbaijani to study at The Fletcher School.
"What a great an opportunity to meet with the ambassador," said Chitralekha Zutshi, associate professor of history and one of several faculty members with an interest in the area who also participated in the small group discussion. 
"In addition to hearing more about Azerbaijan's relationship with its neighbors, I was happy to discuss Azerbaijani's relationship with Southeast Asia with the ambassador."     
Following the lively chat, Suleymanov delivered a lecture on "Bilateral Relations Between Azerbaijan and the Unites States."
"If you look at Azerbaijan on the map, my country is the only country in the world that borders both Russia and Iran," Suleymanov reminded his audience before addressing Azerbaijan's importance in areas such as natural resources, world diplomacy and the confluence of Asian, Middle Eastern and European culture.
For Molly DeStafney, assistant director for study abroad operations at the
Reves Center for International Studies
and a former Peace Corps volunteer in Ukraine, the ambassador's visit was an opportunity to engage with one of her favorite world regions.
"Having an interest in that part of the world, it's always good to see our students interested in learning more about the various aspects of the Caucusus region," said DeStafney.
"I'm glad that the university supports having foreign dignitaries visit campus, and provides students with opportunities to ask questions and gain greater personal understandings of the world beyond Williamsburg."