Alumnus unites history and handiwork by restoring Brafferton brick
Many students are drawn to William & Mary for more than academics—the university's setting in the heart of Virginia's historic triangle has provided a brick-red backdrop for countless students over the centuries. For Peter Post '78, however, the Williamsburg brick transcended its role as scenery to become a lifelong calling.
While licensed as a general contractor in Virginia, Post is what you might call a restoration and preservation specialist who focuses on buildings constructed before 1850. But what does that mean, exactly? 
"It's part conservation and part restoration," Post said of his work, which can involve everything from brick masonry and roofing to plastering and carpentry. What separates Post from a typical contractor is the nature of his job sites, which frequently include some of the most storied locales from American history. 
Indeed, Post's resume reads like a Virginia history textbook, including work on such landmarks as George Washington's Mount Vernon, Thomas Jefferson's Poplar Forest, George Mason's Gunston Hall, James Madison's Montpelier, the John Marshall House and Bacon's Castle. 
Unfortunately, the elements have no regard for historical significance, and these famous residences deteriorate with time just as their less celebrated neighbors do. That's where Post and his unique repertoire of restoration skills come in. 
"I often say that when I leave, it looks like I've never been there," Post said. "It looks like it ought to look."
This summer, Post added the Brafferton to his list of historical job sites, joining the renovation efforts by helping repair and restore the original 18th century brick fabric. Constructed in 1723, the Brafferton is William & Mary's second-oldest building and the only one of the College's three colonial-era structures to escape fire damage. Although the building's interior was largely gutted during the Civil War, its exterior brick walls are the most substantially original of the College's colonial buildings. 
Despite the centuries of weather and war, Post reports that the majority of the Brafferton's brick fabric remains in good condition. 
"Where there was failing brick, I tried to save as much original fabric as possible," Post said. "But occasionally there is a brick that is just unsalvageable—that was a very small, small minority. Most of the bricks that had structural issues with them, I've saved and put back exactly where they were originally."
The Brafferton's chimneys, one of the building's most exposed features, needed more attention than the walls.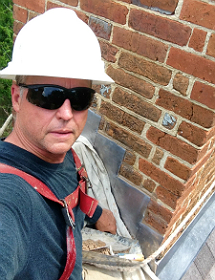 "The chimneys of the Brafferton take a lot of weather," Post said. "They're getting it morning, noon and night 365 days a year. They were in a deteriorated state."
To perform the needed maintenance, Post climbed to the structure's roof where he repaired the caps and failed mortar joints. Despite the chimneys' exposure, not a single original brick was missing. 
While as a student, Post probably never imagined himself climbing on the roof of one of the College's most historic buildings, his time at William & Mary prepared him for his unusual work in many ways. For instance, Post was a member of the men's gymnastics team for all four years, specializing in floor exercise. 
"I think of just having the physical ability to climb around and be like a monkey on a house," Post said. "Those kinds of skills were really honed in my gymnastics experience."
Besides physical ability, a sincere love for historical architecture is a requirement for Post's work. Looking back, it's hard to see how he could have chosen any other profession. 
"The appreciation of architecture was instilled in me at a very early age outside of Washington, D.C.," Post recalled. "We were always going to Mount Vernon, or Gunston Hall or the National Cathedral. At a very early age, I got a love for buildings. Fast forward to William & Mary, and being surrounded by all the history of William & Mary itself and Colonial Williamsburg…that really got me excited about historic architecture."
Despite being a geology major, Post particularly remembers an anthropology class taught by James Deetz, one of the fathers of historical archaeology, as the moment that set things in motion for him. 
"Thinking back on the whole thing, that's when everything clicked together," he said.
While he considers academic enrichment a key part of his journey to a life devoted to preserving Virginia's history, Post is careful not to undervalue the overall colonial milieu in setting him on his life's course.
"I would pick my mail up, then find a beautiful garden behind one of the houses on Duke of Gloucester Street and I would read my mail, or open up the care package from mom with the chocolate chip cookies in it," Post recalled.
For 35 years, Post has devoted his life to making sure that everybody can have that experience. He sees himself as a transient steward of Virginia's architectural legacy. 
"My goal in architecture has been to preserve Virginia architecture for the next generation because ownership passes, we pass, but the architecture hopefully will live on to another generation," he said.