Alumni runner confident Boston will persevere through the pain
Michael Nickerson '11 was enjoying a celebratory stretch and conversation with friends and family members at the Boston Public Garden, two blocks from where he had finished the world's most famous marathon in a satisfying 3 hours, 22 minutes, when the ground shook beneath him.
"Spooky," he thought, but attributed the noise that accompanied the shaking to a celebratory cannon being fired. Never having run a Boston Marathon before, he figured it must be one of the day's quaint traditions.
But as the group headed back to the finish line and their lunch destination, the euphoria that engulfed everyone away from the race route quickly faded, replaced by an ghoulish, growing tension. The shrill sound of sirens and an onrushing fleet of ambulances drowned out the joy.
"The further we walked down the street, the more tense the atmosphere seemed," Nickerson recalled Thursday from Boston, where he is doing graduate work at Boston University's School of Public Health. "Gradually, we saw people visibly upset and yelling for help. At the time, I was with my dad, who is a retired Navy officer now working in defense contracting. He knew that something wasn't right from some of his past experience in the military."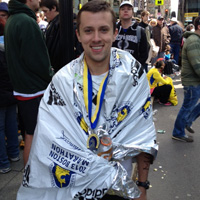 As they neared the restaurant, a Boston policeman approached and shooed them toward the river, warning them that there had been an explosion and "they weren't safe here."
Nickerson's march toward the river was punctuated by frantic phone calls from other friends and family checking to see if he was safe and by a scene he calls  "heartbreaking." Not long after, he found out that three people had been killed, almost 200 wounded.
"All I was able to see was stretchers and ambulances," he said. "There were a few people running around who had blood splattered on their clothes but they didn't necessarily look injured. I knew a few other people running, and I immediately checked to see if they were OK."

Two of those people were W&M alumni -- Jonathan Weiss '10 and Kelsey Budd '11. Both finished before Nickerson and were not injured, he said.
Nickerson didn't run track or cross-country at W&M, instead serving on Alma Mater Production's music committee, the senior gift committee, as vice president of H.O.P.E. (Health Outreach Peer Educators) and as spring break service trip leader for Branch Out National. But he was an avid runner throughout college, completing several half-marathons and his first full marathon.
Boston was Nickerson's fourth-ever marathon, following events in Washington, D.C., Philadelphia and Chicago. The 24-year-old Poquoson, Va., native set Boston as a goal several years ago and qualified when he finished Chicago last October in just over three hours. He trained throughout a brutal New England winter, determined to be in shape for the race, even though he was running it for the experience and not with a time goal in mind.
It hurts, he said, to see something he worked so hard and long for be so adversely affected in a matter of seconds. The bombings "dig at people's souls."
"The marathon embodies all that is great about this marvelous city," he said. "Its enthusiasm, positivity and tradition."
Those virtues have been absent since Monday, and while he is confident that they will return in time, he calls the present mood of the city somber and "eerily quiet."
"When I rode the bus to class Tuesday morning, you could tell that everyone was thinking and trying to comprehend the previous day's events and what everything meant," he said. "There are remembrances and memorials all over the city, but especially at the entrance to Boylston Street, where the explosions occurred. Despite the somber tone to the city, there is a sense of solidarity. Boston is strong, and the city is rallying together to not only remember the victims but honor the legacy and rich history of the marathon, and the sport of running."
Nickerson said he is struggling to make sense of a situation perpetrated by "demented individuals." He isn't sure he ever will.
"I'm learning and strategizing how to separate the tragedy and utter sadness of the bombings from my personal experience of running and completing the Boston Marathon," he said. "It's proving difficult to do, but just as other runners, spectators and all people around the world who are learning to process this event are doing, I know we can overcome this tragedy and move forward. Boston Strong!"