A year in China had profound impact on Brent's life
Less than a month ago, Tyler Brent '15 sat in the second row of an opulent room inside the United States Department of State, practically able to touch the man he was invited to hear speak, Secretary of State John Kerry. Seated next to Kerry was Chinese Vice-Premier Liu Yandong, the highest-ranking woman in that nation's leadership government.
The occasion was the fourth annual U.S.-China Consultation on People-to-People Exchange. Kerry and Liu each applauded the success of the program and called for further people-to-people exchanges between the two countries in an attempt to build a new model of U.S.-China relations in the fields of culture, education, science and technology, sports and women's issues.
"He said he was proud that we're working together because it's been almost 40 years since Ping-Pong diplomacy was sent over," Brent recalled. "The only way we're going to prevent conflict is by having a large number (of people) being sent over to China and vice versa.
"He said that (President) Obama's initiative is to get 100,000 Americans going to China and that we need to keep working toward that."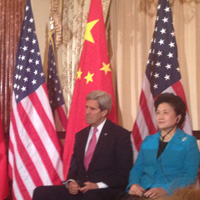 Brent was one of just six students from across the country invited to attend, testimony to the role he's playing in helping this bilateral project succeed.
Brent's story is a combination of interest, opportunity, luck and, perhaps, fate. After graduating from high school and already having been accepted at William & Mary, Brent applied for, and received, a National Security Language Initiative for Youth scholarship from the State Department. Scholarships provide students a chance to spend either a summer or a year in countries where languages such as Arabic, Mandarin, Korean, Turkish, Farsi and Hindi are spoken.
Brent originally wanted to go to Egypt, but his parents had concerns for his safety, concerns that turned out to be legitimate when the students who went there were called home halfway through the program.
So Brent chose to go to China for a semester. But once he advanced through the selection process to a second interview, a State Department official encouraged him to opt instead for an entire year in China. It meant taking a "gap" year, or deferral of his enrollment, which the College granted.
Brent spent the year in Beijing, part of which he worked as a summer camp counselor to the children of the ambassadorial staff as well as the children of American journalists. He learned Mandarin and some Cantonese.
"The exchange program gave me a world view of what's out there," he said. "A year abroad speaking Mandarin has proven very useful."
When Brent returned to the United States, he was invited to make a presentation on his experiences to both the State Department and Booz Allen Hamilton, which provides management and technology consulting services to various branches of the government in a variety of areas.
Brent, who interned at the William & Mary Confucius Institute the spring of his freshman year, has been designated by the State Department as an "alumni ambassador," meaning he is responsible for arranging gatherings for the other students who have participated in the program. He is working on the initial get-together.
He's also just landed an "eternship" with Ping Pong Productions, a consulting firm that brings American performing artists to China and vice-versa. Brent will help serve as a pre-event publicist for Chinese artists coming to the United States.
It all seems surreal, from the yearlong scholarship he says he never thought he would get, to all of the people he's met with international interests and connections, to the networking opportunities that have been afforded to him.
"Going to China with the State Department has allowed me to meet a lot of different people, people serving in the Asia Society (an educational organization promoting partnerships between the U.S. and China), different councils, different exchange programs," he said. "I don't know what I want to do (after college), but going to China and learning Chinese has given me the opportunity to work in China if I want to – and having that option is very exciting."