Writing Resources Center at 25: better than ever
{{youtube:medium|YAJRiKtkotU}}

The Writing Resources Center turned 25 on Monday with two cakes and a quiet sense of satisfaction that the free help they offer the William & Mary community is one of the greatest gifts those students will receive.

"We'll teach you more than your A-B-Cs," was the inscription on one of several celebratory T-shirts Professor Sharon Zuber, director of the WRC, had on display inside the Swem Library headquarters.

"Helping you spell 'Success,' " read another, with "success" spelled out in scrabble tiles.

Zuber and her team of consultants – students who have been thoroughly trained to assist fellow students – took great delight in slicing through two large sheet cakes and distributing pieces to well-wishers who dropped in.

And why not? Under Zuber's supervision, a first-class, full-service repository of information has been created. There are even Skype sessions for students who live off campus or are studying abroad.

And it's not just for students.

Faculty can request that consultants visit their classes to explain the services offered, or they may bring smaller classes into the WRC for an introductory session. Likewise, Zuber is available to assist faculty with integrating writing into courses across disciplines, or to support special writing projects.

In addition to the consultations, which generally last 45 minutes, the WRC keeps a variety of grammar handbooks, documentation manuals, and handouts. Students can make appointments online or by just stopping by Swem's first floor, light-filled space.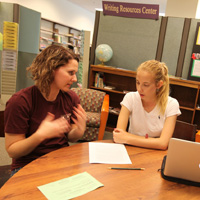 "Everyone who comes here obviously is bright enough to claim a good education," Aleina Kreider said. "But we're here for those who find it difficult to express themselves orally or on the page. The students feel more at ease that they have a place to come to for help."

As the international presence on campus grows, Kreider said, her personal goal is to aid those students for whom English is a second language. Significant training is done to help consultants overcome any "conversation" barrier.

Approximately 1,100 consultations are done annually, many of them with freshmen who are wondering how to make the transition to college and who to turn to the WRC for advice on their writing assignments.

"My strategy is to introduce first-year students to the Writing Center so that they'll know for the next four years when something comes up -- whatever that is – that they can come here," said Zuber. "We really try to pitch the Writing Center to the freshmen seminar faculty, invite them to come and bring their classes for tours. We want people to know about us."

One of the beauties of the consultations is the student-to-student interaction.

"I'm looking for a student who has a certain humility, who understands what it takes to learn something," Zuber said. "They have to know what it's like to struggle; they have to be able to empathize. And they have to be able to think about how to teach somebody something.

"The person who says, 'You have to really break it down into little steps, and let the people do it themselves' is the kind of person who's good at this job."

Graham Bryant met Zuber when she served as his freshman adviser. Now that he is a consultant, he spends lots of time in the WRC because it is a great place to write.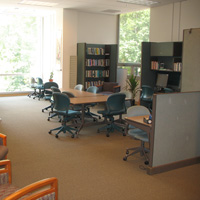 "As soon as I walked in, I liked the atmosphere," he said. "I used the WRC a couple of times my first semester freshman year and I said 'I can do this stuff.' This looks like something I'd want to do."

Bryant and administrative assistant Cody Sigmon approach their consultations with a positive attitude.

"When you're in a position like this, you understand that the people who come to you for help do so out of a place of honesty and vulnerability," Sigmon said. "I find that criticism is not a teaching tool."

Bryant added, "Our entire mission is to make the student a better writer through working on his or her paper. Never do we intend to make the paper better as an end. That's just the means to the end. We help students, not papers. . . We'll never just go through an argument and say, 'That's rubbish, throw it out.' Instead, it's like a cross-examination. We ask leading questions to get them to realize their patterns or mistakes or flaws in their reasoning. The trick is getting them to realize it."

The consultants also clearly understand they are not there to do the work for the student writers.

"I tell trainees that they are hired because of their expertise, but they're going to take a one-semester, one-credit class where I'm going to teach them to downplay their expertise and use active learning and questioning to help guide the student to come up with his or her own answers," Zuber said.

Zuber says that, in part because of the Internet and the enormous amount of information available, there has been a shift in what's expected of students these days.

"Fifteen or 20 years ago, writing assignments were more summary, just showing that you understood what you read and could identify themes," she said. "Now we really demand that students come up with an argument, an interpretation. We're asking them to think in ways different from most of what they would be doing in high school.

"Writing well takes a lifetime. Sometimes people say, 'Our students aren't writing as well as they did in the past.' It might look as though students need more help these days, but in fact we're asking them to do some really sophisticated things."

And that makes the Writing Resources Center more valuable than ever.