President Reveley shares 2012 report with W&M community
The 2012 President's Report is now available on the William & Mary website.
The report, issued each fall, is available online as both an "ezine flipbook" and in PDF format. It includes a message from President Taylor Reveley, a review of William &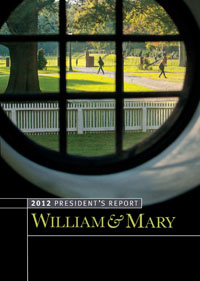 Mary's top news stories from September 2011 to September 2012, in-depth features about members of the university community and a financial report on the 2011-12 fiscal year.
Reveley sent an email to members of the Tribe family Tuesday inviting them to read and view the complete report, which includes embedded videos and additional links to William & Mary information.
"The report recalls an outstanding year, one that shows how William & Mary — and its people — continue to stand apart," Reveley said.
Complete instructions on how to navigate through the material in the report can be found at http://www.wm.edu/presidentsreport/.