One man's guide to Tribe football's greatest 11
Pete Kalison '57 was a student sports information director at W&M in 1953-54, and took over fulltime duties during the 1955 football season, despite still being a student. He stayed as SID until the summer of 1957 when he joined the Army.
From 1959-64, Kalison worked for the New York Yankees in a variety of capacities: statistician, assistant public relations director and assistant farm and scouting director. After that, he spent four "fascinating" years at ABC Television/Radio Sports, producing network radio shows for Howard Cosell and Chris Schenkel, and then at ABC TV Sports. He worked the first several Cassius Clay/Muhammad Ali fights, sitting ringside next to Cosell for both Clay-Liston battles. He also worked in the booth for ABC's baseball game of the week, with Cosell, Jackie Robinson and Leo Durocher.
He has been a recreational historian of the Tribe football program for many years and a regular contributor to W&M's game-day football publication.
Kalison drew on his long familiarity with the Tribe football program to compile the following list of the Tribe's 11 greatest football players. He hopes it will revive some memories and spark some friendly debate.
Kalison's criteria: a) greatness over a player's college career, not just one spectacular season; b) contributions to his team's success; and c) leadership. Success in professional football or coaching was not considered. It should be noted that every player on the list graduated from the university. The student-athlete ideal truly lives at W&M.
Here are his selections.
11. Robert Green, halfback (1988-91)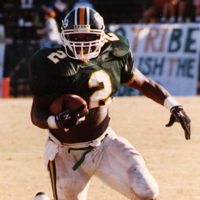 At 5-8, 201 pounds, Robert Green was all toughness in starring for teams that went 29-16-1, reached the playoffs twice and went to The Japan Bowl. Robert bounced off defenders and was a ferocious blocker. A good pass receiver, Green piled up more than 500 yards in that area. The third-team All-American scored a record 19 touchdowns in 1990, rushed for a then single-season record of 1,408 yards in 1990, and ended his career with a then-record 3,543 yards.
Space limits listing his magnificent games. In 1991, his twisting 79-yard touchdown run was the winning score in a 26-21 victory at Navy. In a 59-47 Oyster Bowl shootout win over VMI, Robert ran for three touchdowns and piled up 163 rushing yards, and his three touchdowns and 147 yards were the difference in a tight 41-37 win at Lehigh. In a loss at powerful Georgia in 1988, Green starred with 76 yards rushing and 87 receiving yards against the third-ranked Bulldogs. He scored four touchdowns and ran for 140 yards in a 1991 game against Boston University.
When it came to toughness, durability and the ability to shine in big games there have been few who can match Robert Green.
10. Art Matsu, tailback, quarterback, defensive back, drop-kicker, punter (1923-26)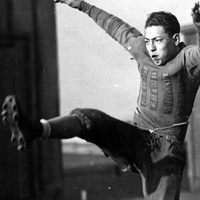 Ichya "Art" Matsu's football exploits have been dimmed by the passage of time, but his startling feats are well documented in the papers and Flat Hats of the era. This smallish man (5-7, 145 pounds) was the true "quadruple threat": outstanding passer, elusive runner, deadly drop-kicker and punter. The first renowned player on the College's first very good teams (24-12-1 in Matsu's four seasons), his dynamic play drew major newspaper attention and All-East honors.
A daring play-caller, Matsu led the "Fighting Virginians," as the team came to be called due to Matsu's play, to a Southern Conference championship and a postseason game in Chattanooga. W&M defeated Chattanooga, 9-6, on Matsu's 47-yard dropkick with six minutes remaining. His 75-yard punt, the school record at until 1942, helped set up the winning points.
Matsu's passes, many to end Meb Davis, helped defeat Duke twice and Richmond three times. On defense he called the signals and led a W&M defense that proved tough against big-time Eastern powers like Navy, Harvard and Syracuse.
Matsu, who came to W&M from Cleveland, was born in Scotland, but his parents were of Japanese-American descent. Matsu later coached many years at the college level, while also serving as a professor. He is a member of the National Football Hall of Fame.
9. Reggie White, guard (1987-90)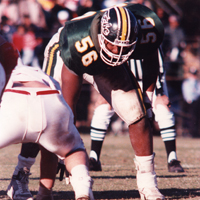 Reggie White was a fearsome blocker who was a dominant force on the Tribe's front five. At 6-5, 300 pounds, Reggie had the size and strength to complement tremendous agility. A two-time All-American, unanimous in 1990, he also was named first-team All-ECAC three times. His teams went 29-16-2 for his four years (24-10-2 the last three seasons), and he was a key cog in helping power some of the most prolific offenses in the Jimmye Laycock era, featuring dynamic players such as running backs Robert Green and Tyrone Shelton and quarterbacks Chris Hakel and Craig Argo.
Flat Hat articles point to his blocking in key wins over James Madison University, Delaware, University of Massachusetts (in an NCAA playoff) and Villanova for teams that racked up record points for W&M. Running back Robert Green noted that "White just destroyed opponents and whenever the team needed critical first downs they always went over Reggie."
White might have played in the NFL, but opted to go directly into law school after being awarded a prestigious postgraduate scholarship by the National Football Foundation given to outstanding players who also achieved academic success. 
8. Rich Musinski, split end (2000-2003)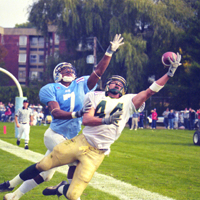 Recruited out of West Pittston, Pa., "Mush" Musinski stood 6-1, 195 pounds, with good, but not unusual speed. The secret lay in his hands -- great big hands (10 ½ inches from thumb to pinky) that footballs just stuck to -- and in his ability to run precise routes. These attributes made Musinski W&M's most prolific pass receiver.
Musinski was very consistent and often played through injuries, but he played every game like it was for the championship. When he wasn't catching passes he was a devastating downfield blocker and, at times, played on special teams.
He holds almost every Tribe receiving record: 223 career catches, 4,168 yards, 31 touchdowns, and most receptions in a game - 13. He helped win a huge 45-42 game against Delaware in 2002 with 194 receiving yards, including nine first-down receptions and the winning touchdown when everyone in Zable Stadium knew quarterback David Corley was passing to him.
He graduated third in all-time I-AA receiving yards, and he was a 2003 first-team All-American. He was also first-team All-Atlantic 10 three seasons in a row and was A-10 Rookie of the Year his first season.
7. Marvin Bass, tackle (1940-42)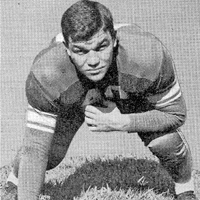 Marvin "Big Moose" Bass, captain of the great 1942 W&M team, was one of the great players of his era. Big for his time at 6-2, 230, Bass played both ways, combining his size and strength with speed and quickness.
He led W&M teams to two top-20 rankings and a Southern Conference Championship in 1942 (nine wins, one tie and a loss to a military all-star team). During three years in which he never missed a game, W&M also defeated Navy, Oklahoma, Virginia and Virginia Tech. W&M won 17 games and lost none against state teams during his time.
He was a Helms All-American, three-time All-Southern Conference and capped his academic days at W&M by being named to Phi Beta Kappa. A ferocious blocker on offense, on defense his quickness and unusual strength saw him bust up opposing plays before they could get started.
In one memorable upset, Bass led his team over highly favored UVA, constantly stopping Virginia's All-American back, Bill Dudley. It was a game his teammate, the late Jackie Freeman, once told me, "You had to see to believe. He had at least 10 tackles of Dudley in their backfield and caused the fumble that led to our winning points."
Bass went on to a memorable coaching career that spanned 60 years, including one year as W&M head coach in 1951. He is in the W&M Athletic Hall of Fame and a member of the Tribe All-Century team that was selected in 2000.
6. Harvey "Stud" Johnson, fullback, linebacker, placekicker (1940-42)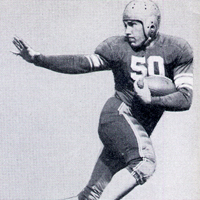 Recruited by coach Carl Voyles in 1939, big things were expected for Johnson.  At 5-11, 212 pounds, with good speed and tremendous leg power, Johnson was a prototype fullback and linebacker who also was an excellent clutch field-goal kicker. Nicknamed "Stud" by his teammates, his three years at W&M produced a 23-5-2 record.
Johnson's field-goal kicking won games over Eastern powers Navy and Dartmouth, both by 3-0. He scored both touchdowns in a 13-6 win over Bill      Dudley-led UVA. He was the leading rusher in almost every game and on defense an aggressive back supporting W&M's great defensive line. He was especially effective rushing the ball against state opponents, scoring a dozen touchdowns in leading the Big Green (as they were called for their unique all-green uniforms) to 17 wins and no defeats (with one tie) against state teams.  After his last game, he played in both the North-South and NFL-College All-Star games, the first W&M player ever to be invited.
Named to All-Southern Conference teams in 1941 and 1942, Johnson joined the Navy after graduation. Later, he enjoyed a long career playing and coaching pro football, mainly with the Buffalo Bills.
5. Tommy Thompson, center, linebacker (1944, 1946-48)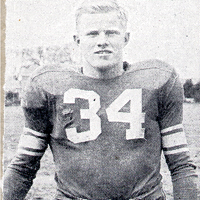 The 6-2, 215-pound dynamo and 60-minute-a-game anchor of some of W&M's greatest teams of the mid-40's on both offense and defense, Thompson called offensive and defensive signals on a star-laden Indian teams that went 24-6-2 against some of the nation's best teams.
The Woodbridge, N.J., native was referred to by the late coach Eric Tipton, as "the heart of the team, the leader who played every play like it was his last."
A third-team Associated Press All-American in 1948, he was also first-team All-Southern Conference twice, and three times first team All-State. Thompson played in the 1949 College-NFL All-Star game in Chicago. He was named player of the week five times by the Richmond Times-Dispatch and his play in a famous 7-7 tie with the Charlie Justice-led #2 North Carolina Tar Heels led to his being named co-National Player of the Week along with W&M end Lou Hoitsma.
Thompson was not just remarkably fast and strong, but played with an intensity and rugged style that was striking. Coach Rube McCray would sometimes hold him out of some practice scrimmages to avoid injury, to himself and others.
4. Darren Sharper, safety, punt returner (1993-96)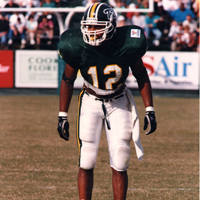 Arguably the greatest defensive back in Tribe history, the 6-3, 210-pound Sharper dominated the field at safety, roaming from sideline to sideline with devastating effect.
Sharper had speed, power, intelligence and athleticism. He also was an effective punt returner, holding the W&M record for both single-season (500 yards) and career (1,027 yards) return yardage.
The Richmond, Va., native played on great Laycock teams that were 34-13, won a Yankee Conference championship in 1996 and twice reached the playoffs. He set W&M records with 24 career interceptions and 10 for a season (tying Jack Bruce). Sharper came just a few yards shy of holding the Division I record for all-time interception return yardage. He was a three-time first-team Yankee Conference selection and a two-time All-American.  He was named the Yankee Conference's Defensive Player of the Year in 1996.
Sharper, when elected to the W&M Sports Hall of Fame in 2008, told the audience he  "came to William & Mary for the academics and the beauty of the school," but his place in the university's history will always be found on the football field.
3. "Flyin' " Jack Cloud, fullback, defensive back (1946-49)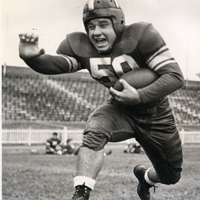 One of the most famous W&M players ever, Jack Cloud was the big star on teams filled with stars. At 5-10, 215 pounds, with wide, powerful legs, he was a bulldozer at fullback, difficult to tackle.
Less well known is that Cloud was a very good defensive back and deadly tackler.
He played for great W&M teams that won a Southern Conference championship in 1947, went to two bowl games -- including a 21-0 pasting of Oklahoma State in the 1949 Delta Bowl – and had a record of 30-10-2.
He appeared on the cover of the 1948 Street & Smith Football Annual, and his photo appeared from coast to coast as his fame spread. He earned a pair of first-team All-American honors and was a three-time first-team All-Southern Conference selection.
He scored 45 touchdowns, a record 17 in one season (1947), and had 270 career points. He gained 2,045 rushing yards in just three seasons, as a knee injury slowed him in 1949. Tom Mikula, who was a blocking back for Cloud remembers that, "Jack would run right over me if I got slowed down and was in his way."
Cloud was elected to the National College Football Hall of Fame in 1990 and also to the Virginia Sports Hall of Fame.
2. Jonathan Grimes, running back, kickoff returner (2008-11)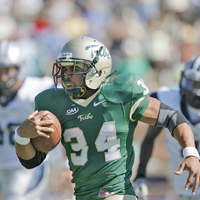 The first phrase that comes mind when reflecting on Jonathan Grimes is "complete football player." The 5-10, 201-pound running machine out of Palmyra, N.J., played all-out every play during his remarkable four-year career. Coach Laycock once said, "He runs every play, whether in practice or in a game, at maximum effort … I have to slow him down in practice."
He saw action in every game the Tribe played from his true freshman season (2008) through his senior year (2011). By his senior year, injuries and youth at quarterback meant that opposing defenses knew he was going to get the ball and massed to stop him -- yet he had his greatest season.
He holds almost every Tribe running record. Among these are total all-purpose yards (7,955); rushing yards (4,541 total and 1,431 for one season). He had 17 100-yard-plus games, scored 34 touchdowns rushing, and ran back kickoffs for a record 2,209 yards. Grimes was a sure-handed pass receiver (236 receptions for 1,125 yards) and a solid blocker out of the backfield. He shed tacklers with both power and agility, seemingly always falling forward after contact.
Against Old Dominion University in 2011, he had 331 all-purpose yards and owns three of the top five all-purpose yardage games in school history.
In the 2009 NCAA playoff game win at Southern Illinois, he dominated the game with three touchdowns and led the 2010 team to the CAA Championship. In his final college game at Richmond, he scored two touchdowns, ran for 207 yards and carried the ball six times on the final, game-winning, drive.
He ended his career as the most decorated player in school history, as he was named to a league record 11 all-conference honors, including being a three-time first team selection at running back and the league's Offensive Rookie of the Year. He is currently with the New York Jets of the NFL.
1. Gerrard "Buster" Ramsey, guard  (1940-42)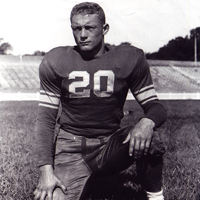 Recruited by coach Carl Voyles, Gerrard "Buster" Ramsey is one of the greatest college guards ever. He was a standout offensively and defensively, utilizing remarkable speed and agility to run down opposition runners on defense and drive opposing linemen far down field on offense.
Ramsey played on teams that won a Southern Conference Championship in 1942 (going 9-1-1, losing only to an all-star service team composed of pro stars) and that beat Navy, Dartmouth, Virginia Tech and Oklahoma, among others. His teams enjoyed a record of 25-4-2. He was an Associated Press first-team All-American in '42 and made three first-team All-Southern and All-State teams. He is one of only three players ever selected to play in two College All-Star-NFL game at Soldier Field in Chicago.
His teammate, the late Jackie Freeman, once said, "Buster had incredible determination; he was all over the field, played every play and, for one example, must have had twenty tackles in our win at Oklahoma … his quickness and pure speed was something to see. Our fullback, Harvey Johnson, would just run through holes Buster would open and then find him still blocking 10 yards downfield."
Ramsey was the first W&M player inducted into the College Football Hall of Fame. He was the first lineman picked on the Virginia All-20th Century Team. Ramsey wore No. 20 for the university. While W&M does not retire football numbers, it is also a fact that no player here has ever been issued No. 20 since Ramsey last wore it in 1942.
Kicker, Punter Steve Christie (1986-89)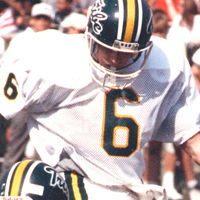 The Canadian from Hamilton, Ontario, was an elite soccer prospect coming out of high school, but was recruited by W&M because head coach Jimmye Laycock saw great potential in him as an "American" footballer. Christie was not just a clutch placekicker for the Tribe, but also a top punter and kickoff specialist; he did it all when it came to the kicking game.
A first-team All-American in 1989, Christie was also a three-time first-team All-ECAC placekicker and punter. He scored a then-record 279 career points, and held school records for field goals (57) and field-goal percentage (68.7). He still co-holds the Tribe record for longest field goal, with two 53 yarders.
He had game winning field goals against New Hampshire in 1988 and in 1989, when the Tribe was 8-3-1 and went to the NCAA Playoffs against East Tennessee and, in the Oyster Bowl, against Boston University.
So there it is, one man's best 11 William & Mary football players ever. Of course, the following players could justifiably appear on another person's listing of all-time greats, and there could be no argument:
Tackle Lou Creekmur, quarterback/punter/kick returner Charlie Sumner, quarterback Buddy Lex, running back/defensive back Bill Palese, end Bob Steckroth, end/defensive back Vito Ragazzo, end Walt Brodie, running back/kickoff returner Michael "Pinball" Clemons, defensive tackle Craig Staub, guard Josh Beyer, quarterback Mike Cook, offensive tackle Dwight Beard, defensive end Adrian Tracy, guard/linebacker Bob Soleau, running back Ed Moduszewski, center Bob Herb, linebacker Dave Pocta, tackle Otis "The Reedsville Strong Boy" Douglas, running back/end/defensive back Meb Davis, tackle Archie Harris, defensive tackle Sean Lissemore, quarterback Shawn Knight, running back Derek Fitzgerald, kicker Brian Pate, running back Troy Keen, receiver Dave Conklin, defensive back Mark Kelso, running back/defensive back Carlton "Five-Yard" Macon, running back/defensive back Red Maxey, end Larry Peccatiello, tackle John Todd, and Guard George Hughes.