MeNetwork app delivers merchant deals to W&M community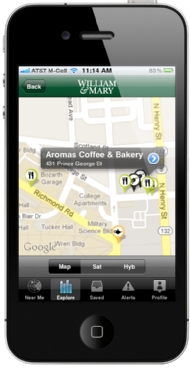 William & Mary faculty, students and staff can now be notified of special offers from local Williamsburg merchants by using their smartphone devices.
According to Carolyn Davis, director of Auxiliary Services, W&M is the first college in the nation to use the MeNetwork, a mobile application and marketing platform.
How it works is simple: users download the free MeNetwork app and then select the businesses or college departments they're interested in hearing from by "subscribing" to them within the app. Whenever a new special offer, event, or announcement is posted, everyone who is subscribed to that merchant or college group will be notified on their mobile phone or tablet. 
Roughly 40 merchants who are already part of the W&M Express Card system are participating, said Davis, and any student organization affiliated with the College can participate free of charge to promote campus events or activities.
"We're trying to add value for the W&M Express Card program not only to our students, but also to our merchants," said Davis.
The free app is available for iPhone, iPad, or Android devices. The MeNetwork is currently available in more than 70 U.S cities across the nation, with plans to expand into Europe this spring.
Founder Michael Stevens said William & Mary was the perfect college to prototype the MeNetwork because of the campus's proximity to local merchants and modest-sized student body.
"We knew from research that W&M is a very tech-savvy school, and that's important when you're rolling out something new," said Stevens. "Getting people to try – and ultimately adopt – a new technology as part of their daily lives isn't always easy… we needed a college where the student body and faculty were interested in the next big thing."
Plans for phase two of the College's MeNetwork rollout are already in the works, said Davis, and are slated to be complete within the next 60 days. New add-on features include point-of-sale redemption capabilities that will allow merchants to build customer loyalty and reward programs for their subscribers, and open enrollment for merchants not currently participating in the W&M Express Card program.
"When you start getting into people's emails and mobile phones, you're talking about getting into their personal life," said Davis. "This is allowing W&M community members to have an outside – or business part of your life – where you choose who you want to hear from."