Media turn to W&M physicist for Higgs boson explanations
Christopher Carone stuck his head in Marc Sher's office early on July 5.
"I was reading the Huffington Post this morning, and all of a sudden I saw your name!," Carone said. "There it was: Marc Sher!"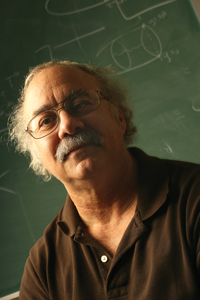 A large number of people have been seeing the same thing. Sher, professor of physics at William & Mary, is a "go-to guy" on the Higgs boson. Having written his first paper on the Higgs in 1978, Sher has devoted his entire career to studying a subatomic particle that had been entirely theoretical until the July 4 announcement. Following the announcement confirming the existence of the particle from the European physics collaborative CERN, Sher was in demand by reporters for commentary, context and explanation.
The demand was stoked by an advisory set out on July 3 to media. The advisory listed information for Sher, as well as a brief synopsis of his career studying Higgs theory.
Sher set his alarm for 2:30 a.m. July 4 in order to see the webcast announcement from CERN, scheduled for 3 a.m. Eastern Daylight Time. He had already written the bulk of an entry for the Daily Kos blog, where Sher is a frequent contributor under the byline "science."
A Higgs watcher since CERN began issuing reports on results from its Large Hadron Collider, Sher has written on a number of CERN announcements that essentially stated that physicists were getting closer to finding the particle. He said he expected the July 4 announcement to be another incremental report on the search for the subatomic particle posited to be the basis of mass. Announcement of the actual discovery of the Higgs boson came as a complete surprise.
"No one thought it would be the official, final discovery. I was not expecting 5 sigma. I was expecting 4 or 4.3, something like that, which is not enough for discovery," Sher said. "I was expecting actual discovery, 5 sigma, to come in the fall."
Scientists have adopted a standard-deviation scale to rank the quality of experiential results. The higher the sigma value, the more solid the data. Five sigma means that there is a 99.99994 percent chance that the numbers recorded in the CERN experiments are not random, meaningless data.
"You use the word 'evidence' only if you have 3 sigma," Sher explains. "You may use the word 'discovery' only if you have 5."
Sher finished his Daily Kos post, slapped on a "DISCOVERY!!!!" headline and posted it while the press conference was still on.
Shortly after the CERN announcement, the media started contacting Sher, beginning with an e-mail from Frank Jordans of the Associated Press at 5:11 a.m. Throughout the day he spoke with reporters on the phone and fielded questions via e-mail, all the while updating his Daily Kos entry as new information came from CERN. His commentary on the Higgs generated more than 4,800 hits in a Google news search.
Back in the office on July 5, Sher was tired from his Independence Day Higgs marathon, but there was no time to rest just yet. He continued to read e-mails offering congratulations and others regarding possibilities of collaboration on further Higgs work. There were more media inquiries. He also had impromptu visits from colleagues such as Carone, a physicist whose office is next door.
Sher interrupted an interview to have a brief technical chat with Marian Rodgers, a Fordham University student studying physics at William & Mary this summer under the Research Experience for Undergraduates (REU) program, an exchange program operated by the National Science Foundation. He put Rogers to work studying the CERN results in context of an advanced Higgs theory he's been working on.
Overall, he said, his main emotion was one of relief. "Because what if it hadn't happened?" As he wrote in his Daily Kos report, "Had the LHC not found it, much of my career would have been spent on something that doesn't exist."