Law alumnus elected to Tennessee House of Representatives
When William Lamberth, a 2004 graduate of William & Mary Law School, was a student in Williamsburg, Va., his fellow law students elected him president of the Student Bar Association.  Now, eight years later, Lamberth has captured a seat in the Tennessee House of Representatives, winning two-thirds of the vote in his central Tennessee district.  Lamberth is the first Republican to win his Tennessee House District since 1972.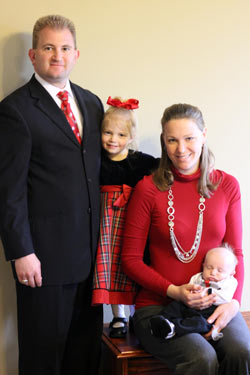 Lamberth returned home to Tennessee after earning his law degree at William & Mary in 2004.  He has served as an assistant district attorney in Sumner County, Tenn., since 2005.
Lamberth has been deeply involved in his community since graduation, serving as president of the Sumner County Bar Association, chairman of the Portland Community Education Foundation, and president of the local Rotary Club.  He has also served as treasurer of the Sumner County Republican Party.
His wife, Lauren Schmidt Lamberth, earned a law degree at William & Mary in 2005.
Lamberth grew up on a farm in central Tennessee and recently reflected on his childhood on his website:  "My parents taught me to take every step with a purpose and from an early age entrusted me with responsibilities far beyond my years.  ... when you grow up the way I did, you learn a sense of urgency that today is the only day to do the job because tomorrow will bring new challenges and obstacles to address."
His election comes as no surprise to those who knew him at William & Mary.  "I remember the very first time I met William," recalled Dean Davison M. Douglas.  "He walked up to me in the mail room and introduced himself. In the course of that initial conversation, his extraordinary confidence, friendliness, and energy were all apparent. During his three years at Marshall-Wythe, William demonstrated substantial political gifts.  Look out, Tennessee - William Lamberth will be a powerhouse!"