Braxton plays key role in creation of Anderson Johnson exhibit
More than 15 years ago, Grey Gundaker, an American Studies professor at William & Mary and friend of Joanne Braxton's, gave Braxton a gift of angels painted by folk artist Anderson Johnson.
Braxton returned the favor in an unusual manner, by serving as guardian angel over Johnson's work during a 12-year quest she and others took on to find a home for the collection of one of the major folk artists of the last half of the 20th century. That task recently came to fruition with the October opening of "Working in the Spirit: the Life and Times of Elder Anderson Johnson, 1915-1998" at the Downing-Gross Cultural Arts Center in Newport News.
Braxton, an avid collector of African diaspora folk art, immediately recognized the importance of Gundaker's gift
and asked to be introduced to the elusive artist, hoping that she might obtain more of his work. Not only did she buy, she proposed Johnson as the topic of a faculty research assignment and began writing about the singing evangelist-turned folk artist who quickly had become her friend.
Few would have guessed his international impact. Despite working out of Newport News, Elder Anderson Johnson's art was exhibited both locally and nationally, and he was known internationally for both his music and his art. Music crews came from as far away as Germany to record him, and they bought his art as well. As a result, Johnson's contributions to the visionary art movement are well documented.
For those who don't know the story, Johnson was eight and working in a cornfield in Virginia's Lunenberg County when he said he was visited by two angels who commanded him to become a preacher. Over the years, he taught himself to sing, play guitar and piano and paint pictures – all kinds of pictures.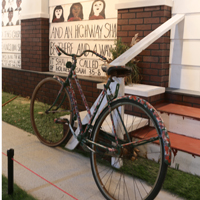 Eventually, he came to the East End of Newport News and opened the Faith Mission out of his home, blanketing the house inside and out with vibrant portraits of celebrities and political figures, cats, presidents, women with big eyes, biblical figures and God.
"He said that art was his hook and that the Lord told him to paint some pictures and to put them on his porch," Braxton said. "The job of his paintings, as he saw it, was to bring people into his Faith Mission so that he could help to establish the kingdom of God on earth. He was not looking to save people to go to heaven, but to create a heaven on earth. He was also painting for children, and for what he hoped children would see. He was painting Martin Luther King, Arthur Ashe and Robert Kennedy, folks that he thought should be heroes."
By 1995, Johnson's house on Ivy Avenue was one of a host the city decided to raze as part of an urban renewal project. Only the quick work by an impassioned band of admirers resulted in Johnson's work being rescued from the walls and placed into storage. A number of individuals and groups prominent in the folk art community banded together to rescue and conserve Johnson's work. Braxton, who had not yet become involved, is deeply grateful for the rescue and conservation, for it made the gallery effort, 12 years in the making, possible.
Johnson died in 1998, while Braxton was still writing about him as part of her research project. Soon after, Mary Kayaselcuk, museum exhibit designer for Newport News, asked Braxton if she would guest curate the Anderson Johnson Gallery being planned by the City of Newport News. Braxton did not immediately say yes, because she was committed to her own writing, but then she remembered her friend's dream that one day the children of Newport News would be able to see his art collected all in one place.
With the permission of the College of William & Mary, she became the guest curator for a project that involved working with Planning Management Associates architecture firm and others for the design of a permanent gallery to house Elder Johnson's work.
In short order, she joined with city officials, architects and Johnson supporters to rescue the old Walter Reed School from demolition and turn what was left – a brick shell – into the Downing-Gross Cultural Arts Center. Braxton calls the center, which opened in 2008, "a model of the art of engagement." This state of the art center brings a variety of cultural art programs to the heart of Newport News and has revitalized what has become known as the landmark district.
The Johnson exhibit, 2,500 square feet, is a stunning recreation of his home that incorporates room-sized murals and hundreds of his paintings. Braxton was part of the committee that approved the design of the building and both galleries. She went into storage with the conservator, assessing the condition of the artwork. She and Kayaselcuk worked together on the themes the gallery would represent and the lighting and wall design. Together they designed the theater in which a film of Johnson's life is shown.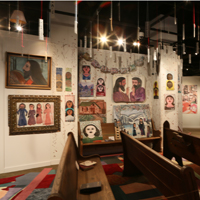 As guest curator, Braxton secured a sizeable gift of artwork for the gallery from Williamsburg-area art collectors Baron and Ellin Gordon, who were also friends of the artist. The gallery took many years to come into being, but together with Mary Kayaselcuk, former Vice Mayor Chuck Allen and other members of a committed team, she continued to invest her scholarly and creative energies and social commitment into the Anderson Johnson Gallery project.
For example, Braxton wrote and published an essay on Johnson in ARTS: The Journal of Art and Religion, the premiere journal of art and religion. This was the first time that Johnson had been treated as a religious artist. This view drew fresh attention to Anderson Johnson from a different audience and helped keep the gallery project alive. The text of Braxton's essay was later incorporated into the film about Johnson shown at Downing-Gross and is reflected in the didactic panels throughout the gallery.
"The realization of the Anderson Johnson Gallery became perhaps the strongest point of advocacy for the construction of the Downing-Gross Cultural Arts Center in what was then a largely impoverished area of Newport News," she said.
As a public intellectual and a servant-leader, Braxton "earnestly wanted a way to engage with a local African American Community, and I saw that this was the golden opportunity to connect the academy with a community where some needed resources might be delivered directly."
Today that community is in better served, in part because of presence of the Downing-Gross Cultural Arts Center, which offers theater, dance, music and video-making opportunities as well as a changing gallery in addition to the permanent Anderson Johnson Gallery. And guest curator Braxton is finally fulfilling her original project of writing a book about Anderson Johnson by creating a catalogue for the gallery that bears his name.