Bone-marrow drive continues legacy Roesle helped nurture
She was blessed with a world-class intellect.
Her focus never drifted from others onto herself.
She was humble in ways even her friends weren't fully aware of until after she was gone.
She never sought the limelight, and she never tired of praising others.
She could light up a room with her smile, and turn a room full of serious students into an uncontrollable laughfest.
She was a silent fighter, a bone-marrow transplant recipient who never bored people with her story, never boasted about her recovery, never did anything to call attention to herself, unless it was to wear a silly costume on Marrow Drive Day at William & Mary as a ruse to cajole others into becoming donors.
Her name was Karin Roesle '05, just 29 years old when she died, a woman who embodied what students at the College aspire to – or should – someone most people now on campus have ever heard of, someone those who knew her will never forget. Her courageous battle with cancer, and the manner in which she lived her life, was captured in a
Washington Post
magazine story last December that was part of an "In Memorium" tribute section.
On Tuesday, April 10, from 9 a.m. to 8 p.m. at Sadler Center, William & Mary students will again take part in one of the most successful outreach programs in the country when they hold their annual Alan Bukzin Memorial Donor Drive Day on campus. The College's involvement in seeking bone-marrow donors began in 1991 as a way to find a potential match for a professor on campus. It intensified when Jay Bukzin '94 began searching for a match for his brother, Alan.
Since then, the College's bone-marrow program has been a model for colleges and universities across the nation. Last November at a conference in Minneapolis, William & Mary was presented with the National Marrow Donor Program Collegiate Award – the only school to be honored.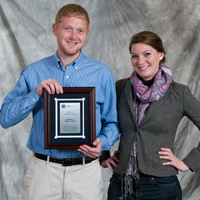 "She was very involved in trying to institutionalize many of the structures that have allowed that organization to be sustainable over time," Vice President of Student Affairs Ginger Ambler recalled. "When you have a population that turns over all the time, continuity can be a challenge on a college campus.
"The leaders -- and count Karin in that group -- the past chairs of bone-marrow drives continue to be supporters of the current students. There's an ongoing commitment that wasn't just for her time here. That drive and that initiative was a part of her identity, even after she graduated."
As with everything about her, the story of Roesle and her commitment to bone-marrow donation is unique.
She was diagnosed with leukemia at age 17, while a student at Severna Park High School in Maryland. Radiation and chemotherapy were ineffective. She lapsed into a coma.
A bone-marrow registry found a match, but the contact information was outdated. Roesle's parents hired an investigator to find the match, who was living in Germany. The transplant worked, and Roesle came to the College.
"Karin was very devoted to the bone-marrow drive," said friend and classmate Patrick Herrel '05.  "More than anything, she led by example. She was always willing to do whatever was needed to advance to work of the drive. This pushed us all."
"Her donor had signed up to be on the registry when he was in college, so she hoped to be able to find donors for others who might need one," Karin's mother, Carol, said. "I think Karin loved to help others.  We were helped by so many when she was sick, that she felt the need to 'pass it on.'"
George Srour '05 met Roesle while volunteering with the bone-marrow drive. While they had several mutual friends, they quickly formed a close, personal bond.
"Karin was living, humble proof that what the bone-marrow drive was out to achieve could literally transform someone's life," Srour said. "She never tired of advocating on the drive's behalf."
Srour "vividly" remembers Roesle dressed in a whacky, outrageous costume one drive day, energetically trying to entice passers-by to stop in and sign up.
"You simply saw how vivacious and passionate Karin was about the bone marrow drive and knew your efforts were worthwhile," he added.
Brent Turner '03 was a junior serving on the bone-marrow drive steering committee when he met freshman Roesle.
"Our motto was 'Share Life' and that's just what Karin did, teaching us about her leukemia, her transplant process, and her desire to give her life to service," Turner said.
"Karin breathed life into philanthropy at William & Mary. Our work became validated by life and happiness. Often people donate time, talent and treasure and rarely see or understand it's journey and impact . . . Karin reminded us."
But there was much more to Roesle's career at William & Mary than working the marrow drive.
Srour founded the Dog Street Journal. Roesle picked up one of the first copies of the paper, spent hours framing it against green and gold construction paper then proudly presented the gift to her friend to celebrate his accomplishment.
"Karin relished in the opportunity to celebrate the great work of her fellow students," Herrel said.
She was a brilliant student. As a senior, she was the only undergraduate in the Business School chosen to compete with Mason graduate students in the Deloitte tax competition, the country's most prestigious accounting competition. After months of exhaustive preparation, Karin and her team brought home first place for the College.
At the same time, Herrel recalls, legendary Religion Professor Hans Tiefel referred to her as his favorite and most gifted student.
"Karin lived for W&M adventures," Turner said. "We were those students who made the most random situations funny and maximized of life. We went sledding down Morton hill when there was barely a dusting. We had late-night chats around our beautiful campus, soaking up history and friendships. It seemed like we never wanted to leave campus or one another."
"We had our small traditions when we went back to campus for Homecoming or visits: lunch at The Cheese Shop, dinner at Tequila Rose, a walk down DoG street, a chat on the Wren steps. Or encountering a ghost in Tucker Hall, wondering what was in Crim Dell, and what we might look like in colonial clothing. It was just simple and fun. Just being around Karin and never predicting the next adventure was a gift."
Roesle battled cancer three separate times. The bone marrow transplant enabled her to attend William & Mary. Later, she would be diagnosed with an "inoperable" tumor, which she also beat.
Sadly, however, she developed a brain tumor, likely the result of the radiation she had been subjected to in her original battle with leukemia. She died on August 18, 2011.
Turner, who works in higher education, received the call notifying him while he was helping new students move into their dorms.
"How fitting," he says, "moving young students into residence halls all while they have no idea how their life will change in college, and who they may meet."
Seven days later, he received another call. He had been determined as a preliminary bone marrow match and potential donor. He was thrilled to have the chance to share life with another human, an act he would have dedicated to Roesle. Fortunately, he says, the patient was able to select a different course of treatment.
"Karin is the definition of legacy," Turner concludes, "a life lived that impacts lives still today. And until we meet again, I will wait by the phone until it's my turn to give marrow."