I want my (W&) MTV: Alumna to star in comedy, talk show
Exciting news from MTV: No, they aren't bringing music videos back to the network, but they are bringing a fresh new comedic voice to late night – a voice belonging to one of William & Mary's own.
According to a recent TV Guide article, William & Mary alumna Sara Schaefer '00 is going to co-host a late-night talk and comedy show on MTV, along with comedian Nikki Glaser. The show, tentatively titled "The Nikki and Sara Show," will tape in the same Times Square studio once used by "TRL" and will air at 11 p.m. once a week. The show is expected to debut later this year.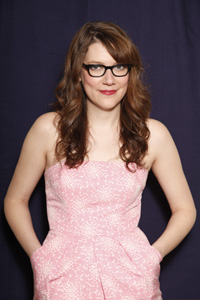 "I'm massively excited because, well, this has been a dream of mine for as long as I can remember," Schaefer said in an e-mail. "I have worked really hard for over a decade to make this happen -- and suffered through a lot of rejection along the way -- so it feels like the gamble is finally paying off."
Schaefer and Glaser currently collaborate on a weekly podcast series called "You Had to Be There."
Schaefer formerly served as the head blogger for "Late Night with Jimmy Fallon," where she earned two Emmy Awards. In 2010, she was named as one of Comedy Central's Comics to Watch. She has appeared on numerous shows, including "Best Week Ever," and has written for others, including "Who Wants to Be a Millionaire." Schaefer also served as the host for AOL's online music and comedy show "The DL."
A native of Richmond, Va., Schaefer double-majored in theatre and English at William & Mary. She also was one of the first members of what is now the "7th Grade" sketch comedy group.
"My experience with the sketch comedy group was immensely influential for me," Schaefer said. "I learned how to perform, promote, direct and work with other people on comedy. I also made some really great friends in the group, some of whom later influenced my decision to pursue comedy as a serious career."
Schaefer said that, generally speaking, her time at William & Mary was a great experience.
"I think the environment there encourages young people to take risks and go after their dreams," she said.
After graduation, Schaefer pondered which of her own dreams to pursue, and considered teaching, acting, writing and comedy.
"Even though I had often daydreamed since childhood about doing comedy on TV, I wasn't sure what I was realistically going to do when the real world hit me in the face," she said. "I spent about a year in New Orleans after graduating trying to figure it out.
"Finally, I decided that I should pursue the riskiest career first, and if it didn't work out, move onto one of my other interests. So I packed up, moved to New York City, and began the great challenge of figuring out how to become a professional comedian. Those first few years in New York were really tough, but gradually, step by step, I made it work."
A decade after deciding to pursue her dream, Schaefer is excited to take the next step in her career with the new MTV show.
"I'm looking most forward to working with some really talented people, especially my co-host Nikki Glaser," she said. "When we were working on our pilot, we kept saying, 'We want this to be our job forever!' It's just where I belong, I think.
"The show will be different because it's two hosts that balance each other well. If someone doesn't like me, they might love Nikki. We are hedging our bets and trying to win the entire audience. We want the show to feel like a party with your best friends, a celebration of pop culture with a smart edge. But most of all, we want it to be really funny."
Surprisingly, Schaefer isn't the first among William & Mary's alumni to have a late-night MTV show.
"It's weird, when we got the call letting us know we got the show, they pointed out that the last time MTV did a late night show, it was Jon Stewart's," Schaefer said, referring to the W&M alumnus' "The Jon Stewart Show," which aired in the early 1990s. "That felt crazy to me. Only a handful of people at any given time get to host a TV show, and soon, I get to be in that same category. I feel very lucky -- and I'm pretty sure W&M is now going to be known as the 'TV host' school."