30 W&M laptops heading to Ghana
Your old office computer might be making a move this summer -- to Ghana.  That's right, that unassuming, aging piece of machinery that used to be in your office could be relocating halfway around the world.
Fourteen W&M students from Student Partnership for Medical Aid (SPIMA) are traveling to Ghana shortly after graduation for a  three-week service trip and taking 30 laptop computers from William & Mary with them. The hard drives for the computers have all been wiped clean.  As shipping to Ghana is prohibitively expensive, the laptops will be carried by the students, traveling in their luggage and as part of their carry-on allowance.
SPIMA is a part of Branch Out International, which provides alternative break opportunities for students so "that they become active and educated members of society." SPIMA is generally involved in public health and sanitation promotion.  However, they are bringing the laptops to help their community partner organization, Humanity and Community Development Projects – Ghana (HCPD–Ghana).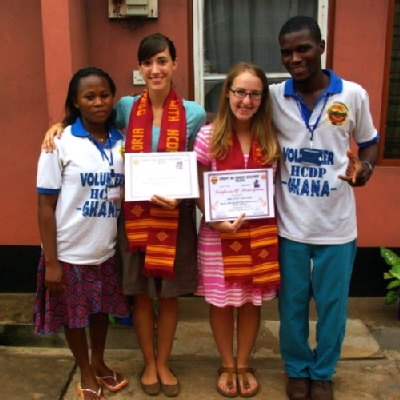 Gloria Driessnack, a junior at the College and one of three leaders of the SPIMA trip, explains the connection between public health and computers. SPIMA's on-the-ground contact in Ghana is Richard Anku who is the executive director of HCPD-Ghana.  HCPD-Ghana is involved in several community development projects, including health care and education.  In one of the education-related projects, Anku has developed a school-based program to help rural children become digitally literate. 
Digital literacy and access to information helps marginalized people (like women and children) in developing countries find jobs and provide for their families, said Driessnack. Youth in particular benefit as computers also help them with school work and advancement to college.  Unfortunatley, most students in rural communities have had very limited interaction with computers.  HCPD-Ghana's goal is to familiarize rural students to digital technology at a young age and provide them with access to the machines. Even though the W&M computers are outdated for campus purposes, they will greatly help students in rural Ghana.
Driessnack said that Anku has done so much to help SPIMA over the years, the group wanted to do something to help him. So, she asked W&M Information Technology if computers could be donated to his organization. Chris Ward, director of systems and support, explained that because of the campus conversion to a new operating system and new hardware implementation, IT happened to have an abundance of computers that were ready to be surplussed. Working through the procurement office, IT was able to donate the additional computers.
"There are lots of groups on campus that don't have a budget to work with, so we are happy to make these kind of accommodations whenever possible," Ward said.
IT made the process so easy, said Driessnack.
"Essentially all I had to do was send an e-mail asking for the computers, and then come and pick them up," she said.