Nation, W&M reflect on life of civic engagement pioneer
As a country mourned the death Tuesday of R. Sargent Shriver, members of the William & Mary community say much can be learned from the life of someone who impacted thousands of people through his devotion to public service.
Founding Director of the Peace Corps, Shriver was described Tuesday by President Barack Obama as the embodiment of service and "one of the brightest lights of the greatest generation."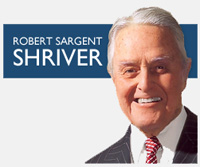 Shriver's work directly impacted the lives of the more than 500 William & Mary alumni who have served all over the world in the Peace Corps since its inception in 1961. And the spirit of service that drove him is something that can be found in myriad William & Mary students, faculty, staff and alumni whose efforts are continually recognized, said
Drew Stelljes
, director of community engagement at William & Mary.
Stelljes said that much can be learned from Shriver's service example.
"Sargant Shriver was a trailblazer in advocating for social change and community development," Stelljes said. "Today's social entrepreneurs and change makers owe a debt of gratitude to the work of Mr. Shriver.  He helped pave a path for young, purpose-driven citizens to follow. His wife the founder of Special Olympics, himself a founder of the Peace Corps, an advocate for Alzheimer's research, a model of a servant leader.
"As we continue to seek solutions to social problems we can look to Mr. Shriver's life as example of accomplishment and legacy."
A graduate of Yale University, Shriver served as the first leader of the Peace Corps under President John F. Kennedy, and he led the "War on Poverty" under President Lyndon B. Johnson. He was involved in numerous organizations and programs, including Job Corps, VISTA and Head Start. He was also once chairman of the board and president of the Special Olympics. Shriver served as ambassador to France, and, in 1972, he ran for vice president on the democratic ticket with presidential hopeful George McGovern. In 1994, Shriver was awarded the Presidential Medal of Freedom, the country's highest civilian honor, for his life of public service.
Shriver was married to John F. Kennedy's sister Eunice, who died in 2009. They had five children, including journalist Maria Shriver. He was 95.
"He was a man of giant love, energy, enthusiasm, and commitment," the Shriver family said in a statement. "He lived to make the world a more joyful, faithful, and compassionate place. He worked on stages both large and small but in the end, he will be best known for his love of others."