It's up . . It's good! Athletic cash donations in 2010-11 hit record high
In an athletics year that saw the College of William & Mary capture four Colonial Athletic Association championships, the fundraising arm of the athletics program, The Tribe Club, matched the College's on-field success by raising over $6.9 million in 2010-11, a record amount of cash donations for a single year.
"The support of our friends, family and alumni to William & Mary Athletics remains the life-blood of the depart-ment's goal to provide our student-athletes with the best possible athletic experience in their time on campus," stated William & Mary Athletics Director Terry Driscoll.  "To reach record levels of giving in the current economic climate is a strong statement towards the commitment our supporters have for our programs and the continued outstanding work our Tribe Club staff consistently provides."
In reaching the record overall number, The Tribe Club had decade-high giving in the critical areas of unrestricted giving and capital gifts.  Included in the total was the transformative gift by the Martin family, which provided the funding for the state-of-the-art Martin Family Stadium, the new home for the Tribe's lacrosse and soccer programs.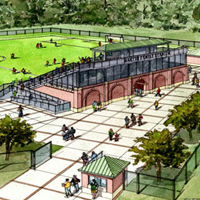 Additionally, contributions to football, men's basketball and women's athletics reached an all-time high, and cash gifts in support of athletic endowments were the fifth-highest total ever.  Overall, the Tribe Club received donations from 3,440 total givers, including over 650 people giving to William & Mary Athletics for the first time.
Tribe Club chairman Monty Mason '89 commented, "The William & Mary family is passionate in its support of the Tribe athletics programs.  We strive to educate our community to the fact the program receives no state funding. Our dedicated friends continue to be equal to the task of creating opportunities for outstanding student-athletes to compete at the highest level.  Raising over $6.9 million in such challenging economic times is a true testament to the value our many donors place on the Tribe athletics experience."
The Tribe Club was established in 1948 to raise funds for William & Mary student-athlete memberships and support their pursuit of academic and athletic excellence.  Anyone interested in supporting the College's Athletics program is encouraged to visit
www.TribeAthletics.com
and click through to the Tribe Club site, where complete giving information is available.