Hanson continues his 'life's mission' as Reves Center's new director
Stephen Hanson remembers his childhood home as a place where internationalism was celebrated daily.
His  parents welcomed Chinese graduate students into their house in Berkeley, California. They ate meals with the family. Chinese artifacts were part of the home décor.
"My interest began right away," remembered Hanson, whose father was born in Taian, China, the son of a Methodist missionary.
Hanson learned Russian in college at Harvard in the 1980s, developed a passion for Cold War politics, and came to realize that the breakup of the Soviet Union was a microcosm of the world.
"It was so fascinating, and I've never lost that fascination for why the world works the way it does," he explained. "Bringing it to students and faculty and anyone else I can reach is really my life's mission."
That mission has carried Hanson, 48, to the College of William & Mary and a role as new vice provost for international affairs and director of the Wendy and Emery Reves Center for International Studies. Accompanying him is his wife of 17 years, Jennifer Stevenson.
"What's not to like about William & Mary?" he cheerfully replied when asked what prompted him to make the cross-country trek from Seattle to Williamsburg. "It's an incredible university with such a unique tradition. It is excellent across the board. It is passionate about global studies and so many initiatives are already taking place here that I would like to be part of or support if I can.
"I already get the sense that this is a family and that people can really get to know each other and support each other on a personal basis. I like the size, the tradition, the liberal-arts focus, the excellence -- and I like this beautiful location, too."
Hanson has impeccable credentials. He served as director of the Herbert J. Ellison Center for Russian-East European and Central Asian-Studies at the University of Washington in Seattle. He also served there as vice provost for global affairs.
"Both jobs gave me a chance to work with partners around the world, with faculty from really different disciplines and departments, and with students, which has always been a joy," said Hanson. "I'm really passionate about teaching. Coming to William & Mary really connects me to that passion I have for bringing graduates and undergraduates to understand the world better."
Inaugurated in 1989 with an endowment from Wendy Reves, the Reves Center draws its inspiration from the ideas of publisher, world government advocate, and philanthropist Emery Reves. His 1945 book, "The Anatomy of Peace," begins with the words: "Nothing can distort the true picture of conditions and events in this world more than to regard one's own country as the center of the universe, and to view all things solely in their relationship to this fixed point."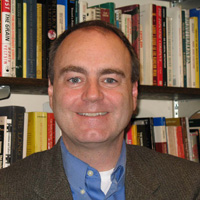 Hanson's experience and philosophy dovetail so completely with Reves' opening statement that the new director would proudly have penned it himself.
"My first trip abroad was to the Soviet Union in 1986; (Mikhail) Gorbachev was still in power, but very little had changed," Hanson recalled. "It was still the old Soviet Union. For example, they had photos of Gorbachev without his birthmark. They were still editing that out.
"Having grown up in Berkeley in the 1960s, I was surprised, frankly, that Ronald Reagan, who was the California state governor during my childhood, was a hero to all of my friends in the Soviet Union. They liked the fact that Reagan called the Soviet Union 'the evil empire.' They said, 'It's true, actually, it is an evil empire. We're really happy you have a president who speaks the truth.'
"As a kid who'd grown up in a very different -- very liberal -- household, to be shown this different perspective on Reagan was really fascinating. And it did change my worldview in very fundamental ways. That's the experience everyone has when they study abroad for the first time. They come back with a new sense of what the U.S. is about; they appreciate things here that they didn't see quite the same way before."
Hanson sees international study as a perfect fit for the liberal-arts university.
"It's the ultimate paradigm shifter," he explained. "We talk about liberal-arts education being a place where people can explore different paradigms and see how different world views exist in an atmosphere of tolerance. What could be better for that than going outside the country and having the same debates you're having with people in the classroom, but with people from another culture who see the U.S. totally differently?"
The Reves Center Hanson inherits is positioned to be the fundamental support system for a university entering its golden age of international involvement. International enrollment is at a record high this year, with 245 graduate students and 223 undergraduate students. Those 468 students represent 51 countries. 
In addition, the enrollment of 85 new, four-year degree-seeking international students is another College record. Four of them will be part of the first cohort of the St. Andrews William & Mary Joint Degree Program.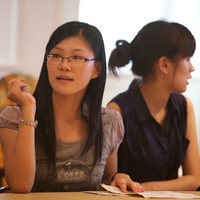 On average, the Reves Center annually helps 600 William & Mary students study abroad by providing more than $150,000 in scholarships and international internships. It also offers 13 summer programs abroad and maintains academic exchange partnerships with 16 universities in 12 countries. The Reves Center welcomes 40 Japanese students to the College as part of a cross-cultural collaboration with Keio University in Japan, and provides financial support to global inquiry groups for initiatives in innovative and interdisciplinary teaching, research, and civic engagement.
Those are only a few reasons Hanson views the Reves Center as unique among its collegiate peers.
"What I really like about Reves is that it is both the place where people come for study abroad, for international-student support and orientations for excellent global programming, but it is also positioned to play a role as a sort of inspiring force for globalization and internationalization at William & Mary more generally, including all five of the schools," Hanson said. "If we are able to bring those two sides together – the administrative side and the grass-roots side – we can be really successful in a way other international programs have a difficult time doing.
"I'd add to that the proximity to Washington, D.C., is really important. You have this lovely landscape in Williamsburg, this lovely tradition and this beautiful place to bring international visitors and students to, and at the same time within a couple of hours you can have them in the corridors of power and really connected to everybody in the world who is wrestling with the difficult problems of today. That's something else I would really like to capitalize on."
Whatever plans Hanson has for the Reves Center aren't going to be implemented for at least a year, he said. Better to watch what's already happening, a sense of momentum that he says "doesn't require some kind of giant push from above."
"It just so happens that William & Mary is launching initiatives in countries around the world that we would consider strategically crucial, including China, India, and Northern Europe, including Africa," Hanson said. "My vision for Reves is really to make it the core place for William & Mary's internationalization. That doesn't mean that the Reves Center has to manage everything at the university that happens globally – that, of course, is impossible – and the last thing one would want to do here is to stifle initiative.
"It's going to be the faculty, students and staff of the five schools that drive internationalization here, and not the Reves Center itself."