Members of the William & Mary community poured into Blow Memorial Hall on Wednesday evening, anxiously waiting to begin discussion of a centralized student-led effort to help in the aftermath of tragedy in Haiti.

Right after the breaking news that a catastrophic earthquake hit Haiti last Wednesday, Drew Stelljes, director of student engagement, was flooded with e-mails from hundreds of William & Mary students, faculty, administrators and alumni.

"They have a desire to help, to teach and to learn. We will do just that," Stelljes said.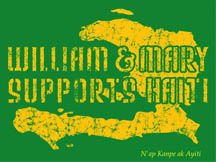 The mission statement for the new William & Mary Supports Haiti service group is to  "serve as an umbrella for individuals and organizations on campus who are interested in disaster relief for those affected by the earthquake in Haiti."

Stelljes continued, "University faculty and administrators will support students' efforts and in ways feasible provide teaching and learning opportunities throughout this effort."
Mallory Johnson '10,  Kaveh Sadeghian '12,  Lamar Shambley '10, Mohammad Torabinejad '10, and Sarah Rojas '10 have been the key student leaders  of the William & Mary Supports Haiti steering committee.Virginia Ambler , vice president for Student Affairs, Laurie Koloski, director of the Reves Center, Anne Arseneau, associate director of student activities for greek life and leadership, Greg Henderson assistant director and Linda Knight, director of recreational sports,  were in attaendance to express support of the student-led effort.

 During the meeting, which included an estimated 200 members of the campus community, student leaders spoke about the effects the earthquake has had on the Haitian population and the challenges the nation will face for years to come.
"This is such a testament to our campus and to what we stand for, " Sadeghian said.

Danny Yates '13, shared the story and photographs of how he survived the earthquake while on a mission trip with his church in Hinche, Haiti.  The first-hand accounts of  Jonna Knappenberger '09 and graduate student Landon Yarrington, left many on the verge of tears.

Yarrington  suggested donations be made to the Haitian organizations Sonje Ayiti, SOIL and Fondwa, a small liberal arts university.

Members of the steering committee said it is the vision of William & Mary Supports Haiti to coordinate fundraisers, drives and other events that will assist with more affective aid from the College directly to the nation of Haiti. Through seeking to create an organized interest group, many hope to facilitate long- term dialog and direction, promote cooperation among organizations and make well-informed efforts for disaster relief. 

Student organizers are encouraged to join the William & Mary Supports Haiti facebook group and to e-mail all ideas, questions and comments to wmsupportshaiti@gmail.com. The group plans to announce a week for Haiti in the near future, filled with service events and fundraisers to go toward disaster relief. 

Stelljes continued, ""This student-led effort is part of what makes William & Mary a unique learning community. Our founders would be pleased, our alumni will be proud."