W&M Murray Scholar wins NSF Graduate Research Fellowship
Francesca Fornasini '10, a former Murray Scholar at the College of William & Mary, has received a National Science Foundation award that she will use to help with her post-graduate studies this fall at the University of California-Berkeley.
She is the second Murray Scholar to receive an NSF graduate research award in as many years.  In receiving the honor her achievement is even more noteworthy as she was competing against students whose resumes already included one year of graduate research.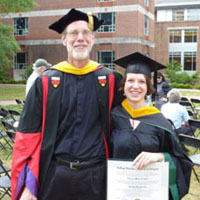 Each year the National Science Foundation awards 1,600 scholarships to college seniors and first-year graduate students with outstanding potential who wish to continue research in science, technology, engineering, and mathematics in research-based master's and doctoral programs.
The NSF Graduate Research Fellowship Program gives the recipients $30,000 a year for three years to pay for school and research.  The scholars are also given a one-time $1,000 allowance of international research.
"I am very grateful for the opportunities that the NSF Fellowship will continue to open up to me, including the possibility to work with any advisors on any research projects I become interested in," she said.
Fornasini says her long-standing interest in astronomy pushed her to become involved in astronomy and astrophysics research during her summers, work she has conducted since the second semester of her freshmen year.
In her honors senior thesis research with Assistant Professor of physics Seth A.M. Aubin, and Assistant Professor of physics Irina Novikova, Fornasini studied the two-photon four-wave mixing process and trying to use it as the basis for and imaging system for ultra-cold atoms.
Other research by Fornasini includes an intensive look as two dialects of the region in Northern Italy, where she was born and still has family.  After taking an independent study with Associate Professor Ann Reed, the two found that one of the primary syntactic contrasts between the dialects was the way in which they achieve negation.
But Fornasini's list of research doesn't stop there.  In the summer of 2007, she spent a month interning at the Space Telescope Science Institute in Baltimore, Md., and last summer she researched luminous infrared galaxies for 10 weeks in Hawaii at the Institute for Astronomy, funded by an NSF Research Experience for Undergraduates program.
"I really enjoyed both of these research experiences, so I decided to apply to Ph.D. astronomy/astrophysics programs," said Fornasini, who was accepted at 12 graduate schools.  She finally decided on UC Berkeley, and is excited to move to the West Coast in August.
As for plans after she finishes up her graduate study, Fornasini isn't sure exactly what she wants to do, but she knows she wants to continue doing research.
"I would like to either continue working in the world of academia or work for science museums, conducting research but also being involved in the exhibits and public educational aspects of a museum," she said. "I have always enjoyed tutoring students in astronomy and physics, and while researching in Hawaii, I became very involved with astronomy public outreach, so I definitely want a career that incorporates both research and education."
Director of the Murray Scholars program, Professor of Biology Dan Cristol, said of Fornasini: "She is more of a self-starter than any other student I've worked with."

One pillar of the Murray Scholarship is an early start to research, and this "sometimes takes some nudging because there's so much else to do here" Cristol says.  "But Franny was off and running with a physics project immediately, and then another and another, and then the linguistics research.  Really, with her the hard part was keeping track of her research rather than encouraging her."
Murray Scholars receive $5000 to carry out independent research as part of their scholarship, which also includes tuition, room board, a special class, early registration, the chance to live in Monroe Hall and other perks.