Todd Durkin '93: Helping people get in shape, both mind and body
In this era of Wii and HDTV, where new statistics are always proving that Americans are not exercising enough and are eating the wrong foods, it is easy to think that we are all destined to spend the better part of our day on the couch watching life flicker away. Until you meet Todd Durkin '93.
"We are on a mission and in a fight to transform lives across the world," says the high-energy Durkin, a kinesiology major at William & Mary. It is at his San Diego-based health and performance facility, Fitness Quest 10, where he leads the charge to help people get in shape, both in mind and body.
"There are so many people to help in this country and world, I believe the best way I can give back is helping them get to their personal best," says Durkin. "What makes me happy is when I can make a difference in other people's lives."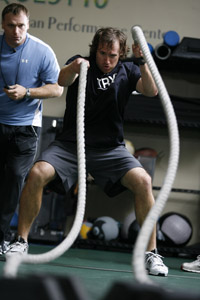 Fitness Quest 10 has become the most recognized venue on the West Coast for professional strength training, attracting the top athletes in the area, many from the San Diego Chargers. In fact, last season's Super Bowl MVP, Drew Brees, who now plays for the New Orleans Saints, treks back to Durkin's center every off-season in order to stay in top physical shape. Recently, Men's Health magazine recognized Fitness Quest 10 as one of the top-10 gyms in America. These sorts of accolades charge Durkin's battery and helps him continue to teach and train.
One of the things that sets Durkin apart from other personal trainers is that his lessons and methods are not proprietary. He is always on the road teaching athletes, coaches and trainers his IMPACT method of training.
"IMPACT Fitness is all about creating an impact in your life," says Durkin. "Basically, when you get your mind right, you'll get your body right and that will get your life right.
"I authentically share the lessons that I have learned. I have created a lot of programs between my Mastermind Groups, mentorships and the conferences that I train. To me it's about sharing my lessons. I don't view [other trainers] as competition. I think if I can help other trainers and coaches improve their game they are only going to be able to help other people as well. The better I can make other coaches and trainers, the more significance I can create in becoming a world-class coach."
Although Durkin attracts top athletic talent to his center, he says that there are currently no franchising plans at this time. But five years down the road, he says, "you never know." His most recent project will allow him to reach an audience that may never set foot in his facility or even in California.
"The last six months I have really been putting a lot of time into my book, which is titled The IMPACT! Body Plan: Build New Muscle, Flatten Your Belly & Get Your Mind Right! " says Durkin. "It will be coming out in late September, and it will focus on a ten-week transformation of body, mind and spirit. I'm going to share my IMPACT Fitness Program that I use to train all of my clients, from pro athletes to average joes and janes. This book is my masterpiece where I put all of my philosophy and all of my programs together in one place. I'm really excited about it. My program will help you do the very best in your life in everything you do."
Though he is extremely busy with his training facility, mentorship programs, training DVDs, upcoming book tour, as the head of Under Armour's Performance Training Council and as a family man (he and his wife Melanie have three children), he still finds time to stay connected with William and Mary. He serves the San Diego Alumni Chapter as a board member and returned to the College in the Spring of 2010 to give a motivational talk to students and staff. Durkin played football during his days at William and Mary, so seeing the new Laycock Center was a real treat for him — but not the highlight of the return visit.
"The best part about coming back to campus was connecting with some of the people who were special in my life back then, and still remain a very important part of the William and Mary community," says Durkin. "Guys like Bobby Dwyer M.Ed. '94, head strength and conditioning Coach Sauer, Coach Laycock '70, Wayne McMasters, John Mitrovic, and associate athletics director Steve Cole. It was awesome to connect. I also got to see one of my old teammates, Warren Roark '95 and his wife Amy.  It was great to reconnect with old friends and folks that are still impacting the William & Mary community."