Students to trek to D.C. for alum's 'sanity' rally
Several William & Mary students will travel to Washington, D.C., this weekend to join one of the College's most famous alumni in his rally "for the people who've been too busy to go to rallies."
Jon Stewart '84, host of Comedy Central's The Daily Show, will host the "Rally to Restore Sanity" on the National Mall Saturday. The rally will take place in conjunction with Stephen Colbert's "March to Keep Fear Alive." Colbert is the host of Comedy Central's Colbert Report.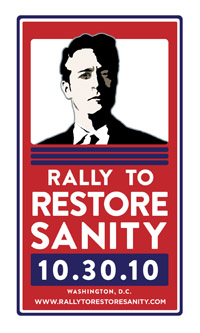 According to the Rally to Restore Sanity's website: "We're looking for the people who think shouting is annoying, counterproductive, and terrible for your throat; who feel that the loudest voices shouldn't be the only ones that get heard."
Brittany Fallon, a senior majoring in anthropology and linguistics, is attending the rally with a group of friends, fellow students, alumni and College employees. They will leave for the event at 6:30 a.m. Saturday and then stay the night in D.C. to watch senior Alex Chalphin run the Marine Corps Marathon.
"An ending of triumph to a weekend of moderate chaos," she said.
At the rally, Fallon and her friends will wear William & Mary attire and carry "ironic posters highlighting the non-extremist sentiments this rally espouses," such as "I voted" or "Moderation is the key."
Fallon said she is attending the event "for laughs, for enjoyment, to participate in what some call the 'Woodstock' of our generation...because, with the true political apathy of my peers, 'Why not?'"
Samanthe Tiver is planning on both meeting friends from around the country in D.C for the rally and bringing a car-load of friends with her.
"As soon as I decided to go, my car filled up within a couple hours!  In fact, a lot more people wanted to go than I could even fit," she said.
Tiver said she loves big events.
"I attended inauguration and simply enjoy being with large crowds, creating big memories," she said.
Lita Tirak, a third-year PhD candidate in American Studies, will attend the rally along with a group of other American Studies graduate students. Although details about what exactly will happen at the rally have been scarce, Tirak said it "is a good defense against the polarizing mainstream media."
"It has become difficult to hear voices that are not the extreme," she said, adding that moderate voices need to be reintegrated into politics to balance the tone of conversations.
 "This rally supports an even balance of conversation without anger, without the extremes. At a time when campaign ads distort and instigate anger from TV viewers, this rally offers comedic relief and critical thought."
Clare Stankwitz '11 also believes that the tone of American politics needs to be changed.
"Jon Stewart's rallying cry of Restore Sanity speaks to my belief that political discourse needs a return to respect, tolerance, coexistence, and mutual listening," she said.
Stankwitz, a geology and environmental policy major, will attend the rally with several other students as well as family members, but she is also looking forward to meeting other like-minded people there.
"At the rally, I look forward to meeting and being with people who also are for sanity, and supporting the furtherance of this idea in political debate, whether in the realms of formal government or between private citizens," she said.
Like Stankwitz, Emily Gottschalk-Marconi '12, a government major, is attending the rally with family members.
"My family has always instilled in me the importance of being an informed, engaged citizen, and I think participating in the rally is an incredible opportunity to act on this value, learn more, and show support for the moderation and respect Stewart is promoting," she said.
Though she knows that some people view the rally as a response to other recent rallies and protests, she said, "I am eager to see if the hosts of this event take advantage of the political opportunity they have created by speaking to the public, advancing policies of mutual respect and deliberation, and motivating people to go to the polls November 2nd."
Stewart received a degree in psychology from William & Mary, where he also played on the men's soccer team. In 2004, he returned to the College to deliver the Commencement address and receive an honorary degree.
Host of the Daily Show since 1999, Stewart has received several Emmy awards and numerous other accolades, including being named as one of the 50 most beautiful people in the world by People magazine and as second funniest person in America by Entertainment Weekly.
Stankwitz said that the William & Mary alumnus' rally could potentially start an important political shift in America.
"We have seen an increasing polarization of politics, even as the world is supposedly becoming a more integrated place economically," she said. "Shifting our political principles to include 'sanity' could hopefully bring us much closer to resolving problems than our current track."