Student discusses Joe Biden internship
When asked to describe an average day at his summer internship, Harrison
Roday '13, a government and finance double major smiles and says "There's no such thing as an average day."

Roday, who spent last spring in the nation's capital as part of the W&M in Washington program, worked this summer as an intern in Vice President Joe Biden's scheduling office. He says he now finds himself in "a place of privilege" thanks to his experiences, and is excited to see where he can go from here.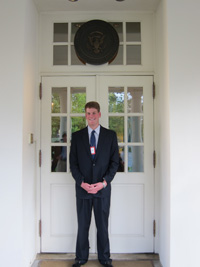 Roday characterizes his time working in D.C. as "extremely cool [because] you get a long term view of what's going on."

Biden spends a considerable amount of time on the road, and it fell to Roday, and the others working in his office under the VP's director of scheduling, to manage a time-track sheet of where he had gone, as well as to manage the invitations for the vice president to appear at various engagements across the country.

"Let's say President Reveley wanted to invite Vice President Biden to speak at commencement." Roday said. "That comes to my desk. Or, what was formerly my desk. I certainly don't make decisions on that, but I get it to the right people. And I work to make sure all those communication lines are good."

Additionally, Roday helped to plan travel arrangements for the vice president, handled requests for phone calls on matters such as the New START Treaty, and planned for days the VP spent around Washington, D.C.

"It's almost like you're a fly on the wall," he said jokingly. "Only you're a little bit more than a fly on the wall because you get to help out. Even if the only thing I got to do at my internship was sit at my desk and watch how the scheduling office worked, and watch how they handle issues that come up and watch how they operate, that would have been enough for me."

He added "Pile on all the cool stuff I get to do, and it's tremendous."

Some of the aforementioned cool stuff included an advance trip to Fort Drum, a military base in northern New York, where the vice president was scheduled to make a visit over the summer. Roday and the advance team staff arrived early to help plan the trip before Biden's arrival, or, as they referred to it, "Game Day."

"I don't want to portray my job on this trip as very big, because it wasn't," Roday said "But you're part of a team that's helped assemble this setup. And then Air Force Two lands, parks right in front of you, the vice president gets off, he does his thing, he gets in his motorcade, he does another thing -- it's a whirlwind. And then, as you see Air Force Two taxiing away you think 'Okay, however minor it may be, I helped out with this.'"

Getting There

Before he even began working at the vice president's office in May, Roday was already spending time as an intern in Washington, D.C. as part of the W&M in Washington semester program.

"The story that I want to emphasize, if anything, is how helpful the William & Mary in Washington Office was," He said. "Sure, I interned and did my work, but without the William & Mary in D.C. program, I never would've been there to begin with."

Established in 2001, the College's Washington Office began running a semester-long academic program in 2006. This past spring Roday and seventeen other William & Mary students lived in Arlington, Va., for almost four months, where they attended classes taught by William & Mary Government Professor T.J. Cheng at night, and worked as interns in and around the city during the day. Each William & Mary semester in D.C. is centered around a theme, and the topic from this past spring, International Politics in Economic Hard Times, was what first drew Roday to the nation's capital.

"Those interests -- politics, economics, finance -- are all very high on my list and so I figured 'well, that academic theme is basically perfect for me'" He said "So that's why I chose to do it. And it was terrific."

In keeping with that term's theme, Roday earned an internship at the Center for American Progress with their economic policy team. The Center for American Progress, or CAP, is an organization dedicated to advocacy and public policy research which was founded by former President Bill Clinton's chief of staff John Podesta. Roday estimates that about half of Podesta's former staff are now working for the Obama administration, and characterizes the center as "a very young place, but also a place with a lot of expertise. There are highly qualified people there."

Besides internships, the students enrolled in last semester's D.C. program also had the opportunity to attend a visiting lecture series every Friday, where the speakers included Ingrid Beckles, Senior Vice president at Freddie Mac, and Seth Carpenter, the Deputy Associate Director for the Division of Monetary Affairs at the Federal Reserve. Roday and the other participants also had a chance to tour the Federal Reserve System, and traveled to the Capitol to hear from the Congressional Budget Office.

In addition to the CAP internship and the speaker series, Roday credits the William & Mary in Washington program being instrumental in securing him his placement in the vice president's office over the summer.

"There are so many opportunities be a summer intern in Washington, D.C., but selecting the White House, it's like you're applying to college and you select an Ivy League school," he said. "You do it because it's a reach and you do it because… why not?"

Before he talked with the people who would eventually hire him, he prepped some points and strategies with the staff of the College's D.C. office, and then, after a phone interview conducted over his lunch break in the kitchen of CAP, he found out that he'd been hired.

The Summer and Beyond

A few months later, Roday and the other White House interns were scheduled to receive a special talk from the vice president on July 15, the same day the oil spill in the Gulf of Mexico was capped. Although he was only supposed to talk for 45 minutes, Biden spoke for over twice the allotted time, and then invited a handful of interns back to the West Wing for another hour of conversation.
"He was extremely candid, genial, and kind," Roday said. "Plus, having the oil spill capped that day, and getting to hear from the vice president, and getting to go back to his office, it was a surreal day."

The William & Mary sophomore said he views his time this summer working with the vice president's staff as "a crescendo of [his] government and political interests," and thinks that after this summer he's ready to branch out.

"Is there a temptation to send off an application to the State Department, or send off an application to the Treasury Department? Sure. But I also want to explore some other areas," he said.

Roday said that technology and finance are among the interests he might want to explore in the future, and credits his diverse experiences growing up as the source of this wide scope of curiosity. While in high school Roday worked on the technology team, working his way up from cleaning keyboards to building servers. And even before that he interned as a page in the Virginia House of Delegates in the eighth grade, which he says helped to spark a lifelong interest in government.

"Virginia's a great place to watch politics," Roday remarked.

With two summers to go in college and an internship with the vice president already behind him, where will Roday go from here?
"I think it'd be a cool experience to go and do an internship at Silicon Valley, maybe something with a finance emphasis out there. And the summer after that maybe do a traditional business school Wall Street job or something more finance concentrated. And maybe then I'll be able to look back and say, 'Okay. I've had a terrific experience in politics. I've had a terrific experience at a Fortune 500 company. And I've had a terrific experience in financial services. What do I want to do now?'"

"I'm obsessed with politics," he added "Always will be. But there's plenty of time to be obsessed with politics."