Student honors grandmother's 'Oklahoma' legacy
When Elsie Arnold responded to an audition notice posted on a 3x5 index card in the 1940s, she had no idea that she'd soon be cast in what would become one of Broadway's most famous and longest-running musicals: "Oklahoma!"
Now, as William & Mary's Theatre Department prepares to debut its own production of the show, Arnold's grandson is making time in his busy academic schedule to work behind the scenes on the musical, all to honor his grandmother's legacy.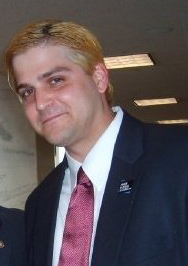 Benjamin Johnson, a junior majoring in government and education, contacted the theatre department in September when he found out about the production. The musical is a "big deal" in his family because of his grandmother's involvement in the original cast, he said.
"That was her 15 minutes – well, we'll call it 45 minutes," Johnson joked.
Arnold, who studied voice at Julliard, was 22 when she was cast in the chorus of the original Broadway production of the Rodgers and Hammerstein musical. The show opened in 1943, in the middle of World War II, and ran for more than 2,000 performances.
"It was a really exciting time," said Miriam Howe, Johnson's mother. "I grew up hearing stories about what it was like."
Howe said her mother often talked about her audition with Richard Rodgers (of Rodgers and Hammerstein), the time when the cast came down with German measles, the false teeth of some of the men in the musical (because most younger men were fighting in the war), and the numerous celebrities who made appearances at the show, including actor Walter Pidgeon and Roy Rogers' horse, Trigger (with whom she appeared on stage).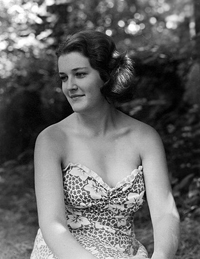 "As children, my siblings and I were all very proud that she was kissed by Trigger," Howe said.
Arnold was later offered a part in a touring production of "Show Boat," but turned it down, sensing that her boyfriend was ready to pop the question. She married him and had seven children, but still managed to work as a professional soloist and piano teacher on Long Island.
Arnold now lives in North Carolina, where Johnson and numerous other relatives will visit her on Thanksgiving, around the time of her 90th birthday.
Since her Broadway debut, several of Arnold's offspring have followed in her footsteps, playing different parts in various "Oklahoma!" productions. Johnson played the peddler in his high school's production of the show, and he has had numerous other roles in school and community theatre, leaning toward comedic roles.
"It's more than a hobby. It's something I enjoy," said Johnson, who is also starting a William & Mary skydiving club. "It's in the blood and kind of part of who I am. I have no problems getting in front of people and making a fool of myself."
Johnson said he was disappointed when he found out that he had missed the auditions for "Oklahoma!"at William & Mary, but wanted to find a way to get involved anyway. He jumped on the opportunity to work in the scene shop.
"I feel like I do owe my grandma something," he said. "I do feel like something of a jackal for missing the auditions."
Johnson said he will try to tell his grandmother about his involvement in the William & Mary production of "Oklahoma!" when he visits her for Thanksgiving. However, she has been suffering from memory loss and often does not recognize him.
"But the rest of my family knows and that's an element," he said. "A solid 80 percent of my mom's family is going to be there, so I'm going to have the opportunity to see cousins I haven't seen in over a decade, aunts and uncles. It's going to be a massive reunion."
Though he enjoys the theatre, Johnson plans on taking a different kind of stage when he graduates -- in a way, once again following his grandmother's footsteps, but this time as a teacher.
"I'm very passionate about learning and experience," said Johnson, who wants to be a high school social studies teacher. "I'm very passionate about living your life to the fullest and never taking any day for granted."
Arnold, no doubt, would be proud.