New Africana Studies program melds the local with the global
"They have seen our website and say 'We like what you are doing' and 'How do you do it?'" said Abegaz, who is professor of economics and director of the Africana program that merges Black Studies and African Studies. "We are one of the few institutions of our kind to have a program like this."
Africana Studies was launched this academic year as a new interdisciplinary program that offers majors and minors as part of an expanded curriculum of Black Studies and African Studies. To date, more than 30 affiliated faculty members from a dozen departments and programs in Arts & Sciences support the program.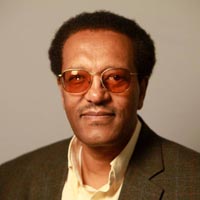 Among the College's peer institutions, only a handful have similar programs that meld the local with the global in studying the diverse experiences of the people of African descent, Abegaz said.
"We wanted to take two fledgling programs, combine them and recast the program in much more global and diasporic terms," Abegaz said. "To study and explore the history and cultural contributions -- both locally and globally -- of the 1.2 billion people of African descent. And study this beyond just focusing on race or slavery. There is a huge contribution that Africans have made to the New World."
African Diaspora in the Historic Triangle
Africana Studies recently sponsored its inaugural symposium that featured top scholars from the College and across the country to discuss "The Origins of the African Diaspora in the Historic Triangle." The symposium highlighted research and examined both the local and global connections to slavery in the Historic Triangle and also presented recent research on the College's own history with regards to slavery.
"When you think of the origins of slavery in English speaking America, this is the place," Abegaz said of Virginia and the Historic Triangle. "We have the historical context to discuss that globalization."
Abegaz said this year's event was the first in a series of annual symposiums that will showcase research and scholarship tied to the three tracts of study in Africana Studies, which include African Studies, African-American Studies and African-Diaspora Studies. Given the growing national movement of universities and colleges, including William & Mary, to investigate their own history with slavery, Abegaz said the inaugural symposium focused on the diasporic perspective. It was also timely to current work underway at the College. Last year, William & Mary announced the Lemon Project, a multiyear effort to explore and understand the College's connections to slavery as well as race relations at William & Mary from the end of the Civil War to date. It is named for a slave called Lemon whom the College owned in the late 18th and early 19th centuries.
In separate panels, the symposium featured presentations and research from faculty at William & Mary and beyond. The opening session was chaired by William & Mary professor Joanne Braxton (English/Africana Studies) and featured W&M faculty members Michael Blakey (anthropology), as well as historians Lorena Walsh (retired historian of Colonial Williamsburg) and Jennifer Oast (Bloomsburg University) to examine the origins of slavery in the Historic Triangle and at William & Mary. The second panel focused directly on William & Mary's connections to slavery, efforts to educate enslaved children in Williamsburg and the Lemon Project. It was chaired by Lemon Project co-chair and W&M faculty member Robert Vinson (history/Africana Studies) and included presentations by Terry Meyers (English), and Robert Engs, a retired professor of history from the University of Pennsylvania whose work last year as a visiting professor at W&M helped establish the Lemon Project.
"We have a number of people who have done extensive research in the field," said Abegaz. "This was an opportunity to have a sober and non-sensational look at a global issue with local significance. I thought it would resonate with students."
Enriching campus life
While the new Africana Studies program is only a year old, Abegaz said there has been a great deal of interest among faculty and students. Africana Studies will grow from five to seven original courses next year and cross-lists more than 25 other courses across disciplines such as anthropology, art and art history, history, economics, English, government, modern languages and literatures, music, philosophy, religious studies, sociology and theatre, speech and dance.
The Africana program is also experimenting with pedagogical innovations, an example of which is the team-taught course, "Slavery in History and Memory" that will be offered in the fall of 2010, Abegaz said.  In exploring the history of African Americans from West Africa to the New World, he said this course will investigate how systems of slavery and ideals of freedom developed together in the Atlantic world from the 15th century to the 19th century.  Students will examine various ways that individuals became enslaved and will research how enslavement continues to be remembered and represented in literature, landscape, social practices, and public memory-in West Africa, the Caribbean, and North America, Abegaz said. Jointly organized by the well-known Omohundro Institute for Early American History & Culture and the Africana Studies Program, this course will be taught by five instructors-four from William & Mary (Ted Maris-Wolf of OIEAH, Joanne Braxton of English, James La Fleur of history, and Neil Norman of Anthropology) and a visiting scholar from Ghana (Professor Wohelmina Donkoh).
In conjunction with the Reves Center for International Studies, the program also serves as the lead sponsor of the William & Mary summer program in Cape Town, South Africa. In that study abroad program, up to 25 students combine coursework at the University of Cape Town with hands-on service learning with local residents and students to better understand local life, history and culture in the South African city. Abegaz said that in the future they would like to add similar programs in Brazil and the Caribbean.
This May, 13 students will graduate with majors currently under the Africana umbrella. Ultimately, they expect to graduate 20-25 majors each year from the program. Also sponsored by  the program is the Africana House, a special interest housing option for students who share an interest in things African and current events.
It is important, Abegaz said, to establish programs and courses where minority students, faculty and staff can see their own reflections in what is taught and researched. William & Mary is situated ideally to be a leader in this area, he added.
"We want to enrich campus intellectual as well as cultural life in a balanced and responsible way," Abegaz said.