Bob Sheeran can't stop talking about Tribe football
Bob Sheeran applied to Duke; his father scowled.
He once mentioned the University of Virginia; his father snickered.
Other bastions of higher education occasionally surfaced in conversation, always drawing the same disapproving reaction from his dad.
"According to my dad, William & Mary was the university in Virginia," Sheeran recalled recently. "I didn't have a lot of choice about where I was going to go, I can tell you that."
It made sense. The Sheeran clan forged its legacy at W&M.
Shortly after the turn of the 20th century, grandfather Joe Capps left Pungo and Princess Anne County to attend the College. A sports star, he graduated in 1911.
Bob Sheeran, Sr., '38, followed, playing football and baseball. Bert, '38, a W&M tennis player, would become his wife.
Bob and Bert's daughter, Marion, graduated from the College in 1960 following a career that included a role on the field hockey team.
So of course Bob, Jr., attended the College. And graduated in 1967. And started in Law School before thinking better of it.
"There's a whole lot of history there," Sheeran says, "and it has been just a great experience."
But Sheeran invested something his grandfather, father, mother and sister did not.
His life.
It's not hyperbole to say that anyone's who has ever listened to a William & Mary football game on the radio knows Bob Sheeran; well, at least his voice.
The Tribe's 30-20 victory over Delaware last Saturday was Sheeran's 426th consecutive game on radio. It's a Ripken-esque feat that Sheeran never pondered until Associate Director of Athletics for Media Pete Clawson asked recently. That's when he began counting backward, continuing until he got to the 1970 season.
"We were so late realizing (that the game against Norfolk State was more magical milestone number 425) that I didn't have time to reflect on the significance of any of it," Sheeran said before playfully adding, "To me, it really tells you how old I am.
"But it really is special," he continues, "especially my relationship with the student-athletes. William & Mary has such an incredible history of consistent, strong and proud student-athletes."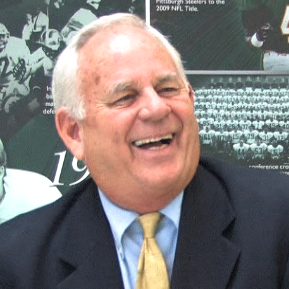 That's certainly the case this season.
Saturday's game between undefeated and fifth-ranked W&M (4-0) and second-ranked and 4-0 Villanova - the first Colonial Athletic Association game ever to be nationally televised - represents another exciting step along what Sheeran sees as a potentially landmark season for the Tribe.
"This team has the opportunity to be something we haven't seen around here in some time," he said. "When I looked at the players we had coming back on defense from last year, the speed they possessed, how hard they worked during the summer and the dedication they showed to the program, it was easy to conclude that they could be special. That's not to take away anything from the offense, but we know they'll do their share."
However, Sheeran is acutely aware that the Tribe's division, the CAA South, features top-ranked and defending national champion Richmond, second-ranked Villanova and seventh-ranked James Madison.
"You look at that lineup," he exclaims, "and all you can say is, 'Wow!' "
Sheeran has an almost encyclopedic knowledge of Tribe football; sure, he may be off by a year or so when he quotes a "fact" (something he always admits). But he's almost certainly the only person alive who can tell you about the W&M fullback who never once was tackled behind the line of scrimmage during a long and distinguished career.
Much of that knowledge comes from Sheeran's 16 years as the College's sports information director. An equal amount is born of his deep ongoing relationship with players he has long helped publicize and chronicle.
"My two sons, their godfathers are (former) William & Mary football players," he said. "It means more to me than anybody might ever imagine."
Sheeran admits that he's been lucky; the only time his streak was threatened was on opening day, 1976, against Virginia Military Institute. But Bob's son had the good timing (or sense) to be born after the Tribe's 34-20 home victory. Sheeran skipped the usual post-game show, raced to the hospital and arrived in time to take the hand-off from his wife.
Ask Sheeran the obvious question about most-memorable games, and the answers come in waves. There's an overtime playoff victory over Delaware in which the Tribe trailed, 31-10, in the fourth quarter. Another victory was achieved when quarterback Stan Yagiello threw a touchdown pass to Jeff Sanders with no time left on the clock.
But there are different reasons for remembering different games. In 1976, W&M was Ohio University's homecoming opponent. Instead of playing the sacrificial lamb, the Tribe slapped the Bobcats with a 20-0 loss in which their defensive ends spent as much time in the backfield as the Ohio quarterback.
"After the game, someone asked the quarterback about our defensive ends and how they'd knocked him to the turf all day," Sheeran recalls. "And he says, 'You know what was really weird about that? One of them would say God bless you when he'd pick me up. The other would tell me to go to hell.' "
Then there was a game at Lehigh where the telephone line Colley and Sheeran were broadcasting on somehow ran through a fraternity house. Midway through the game, a fraternity brother picked up the phone, heard something that didn't sound like conversation, and wanted to know what was going on.
Still on the air, Colley told him he was listening to the W&M football broadcast and asked him to hang up. At that point, the student alerted his fraternity brothers, who began screaming mostly obscenities at the top of their lungs.
"We hung up, found the sports information director, who gave us another line," Sheeran said. "We got back on the air in about 10 minutes and tried to recapture what had happened but that was certainly an embarrassing moment. We waved good-bye to that frat house when we left that day."
Anyone listening to Sheeran knows that he knows football. But Tribe coach Jimmye Laycock, a classmate of Sheeran's, helps by allowing him unparalleled access to the team's strategy.
"I go down on the field before the game starts and he tells me everything that's going to be done, including the first play and tendencies they're looking for. We sound so much better with Jimmye Laycock sharing with us. He is our gift when it comes to the presentation of the game; he doesn't make it easy, but easier, that's for sure."
Depending on how things go, the Tribe could play as many as 16 games this season. That leaves Sheeran with a lot of weekends to himself.
Or does it?
"I usually go to William & Mary basketball games," he said when asked what he does after football. "I follow William & Mary athletics, no question about that."