ROTC: Sharing a Mother's Day commissioning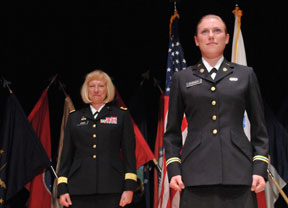 Senior Jennifer Purser was commissioned May 10 as a second lieutenant in the U.S. Army by her mother, Brigadier General Leslie Purser.

"This is my first [commissioning] …" mom said. "It is especially poignant that it's my daughter and it is Mother's Day. I'm so psyched!"
ROTC cadets generally get to request who will commission them. Jenny didn't hesitate to ask her mom.

"I think it's pretty cool my mom is a General and that I am a female cadet and I'm having a female commissioning me," she said.

Jennifer, or Jenny as she is known to her family and friends, follows in a strong family tradition of military service. Her dad, Joe, served 22 years of active duty with the Army, retiring a few years ago as a lieutenant colonel; her mom is in her 28th year as a reservist – now on active duty, and her brother Justin recently enrolled in ROTC at James Madison University and the National Guard. Still, it was a decision that took her parents by surprise.

Being military brats, her mother said, Jenny and Justin had to move around a lot and change schools constantly – things they weren't always thrilled about. I was "totally shocked," her mom said about Jenny's decision to join the Army. "But, totally proud," she added. "The fact that she graduated magna cum laude doesn't hurt either. We are excited for her future."

Jennifer was commissioned Saturday with six other William and Mary ROTC cadets in a ceremony at the college's University Center, the day before receiving her bachelor's degree in international relations.

Jennifer's first military assignment will be at Ft. Lewis in Washington. A posting, her mother noted, will likely see her deployed to Iraq in the first year.

"I'm not worried," her mother said about the orders. "I've been there before, I know what she faces. "

Brig. Gen. Purser is commander of the Military Intelligence Readiness Command at Fort Belvoir in Virginia. Jennifer plans on following in her mother's military-intelligence footsteps. She will spend the summer in training first in Oklahoma and then Arizona before heading off to Ft. Lewis. She's ready for the challenge.

"I couldn't see myself doing anything else at this point," Jennifer said.