Prokhorov gets Jefferson Teaching Award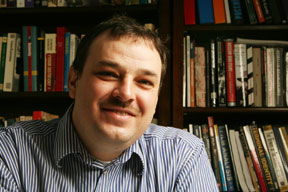 Alexander "Sasha" Prokhorov doesn't just teach his students. He connects with them. He challenges and encourages them, and he takes pride in what they accomplish.

"I worked as the layout editor on the school's student-produced Russian language newspaper," said Peter Thomas ('07) in a letter. "(Prokhorov's) face would light up more than usual when we presented him with each new issue, hot from the press, with which he would parade through the (Modern Languages and Literatures) offices, proclaiming 'look at what my students have made!'"

"He was always our biggest fan and ardent supporter," said Thomas.

Now Prokhorov is being recognized for that devotion to his students and passion for his work. He will receive the Thomas Jefferson Teaching Award, the highest honor given to young faculty members at William and Mary, as part of the Charter Day ceremonies this year.

An assistant professor of modern languages and literatures, Prokhorov heads the Russian studies section where he teaches courses ranging from those in language instruction to advanced seminars on Russian culture. In that role, he developed several new courses, introduced a protocol for assessing the language proficiency of the College's Russian studies students.

"Sasha's leadership of the Russian section has resulted in a vibrant program that extends well beyond the classroom environment," said Silvia Tandeciarz, acting chair of the modern languages and literatures department, in a nomination letter. "In addition to teaching students at all levels in a remarkable array of courses, and receiving some of the most glowing teaching evaluations I have seen … Sasha devotes an enormous amount of time to mentoring students."

In addition to his work in Russian studies, Prokhorov also teaches courses in film studies and even developed several foundational courses for the program.

"Indeed, because most of the Film Studies courses he offers are requirements of our Program, it would only be a slight exaggeration to say that Prokhorov is the core of Film Studies at the College," wrote Arthur Knight, director of the Film & Literary and Cultural Studies Programs.

In the nomination package for the award, Prokhorov was lauded by several students who said he constantly works with them to ensure their success. Erin Alpert ('07) wrote she was assigned Prokhorov as her freshman advisor when she first came to William and Mary. Over the years, Alpert took a variety of classes with him, and he eventually became the advisor for her senior honors thesis. Later, he helped her prepare for graduate school and invited her to co-author film and book reviews.

"Professor Prokhorov took my work very seriously, and did not let me rest until I had something I could be very proud of, and which would be of value to me as I continued my education" Alpert said in the letter. "He also helped me realize I was capable of doing more than I thought I could, for which I am eternally grateful."

Laura Tourtellotte ('09), a Russian and post-Soviet studies major, resident of the Russian houses and president of the Russian Club, said that Prokhorov is "generally interested in the welfare of his students" and is a constant presence at any Russian-related events and activities. He also organizes field trips, creates Russian cultural opportunities for students and works with students going abroad and pursuing graduate work, she said.

"Professor Prokhorov is both deeply immersed in the overall performance and well-being of his students and genuinely passionate about the subjects he teaches," she said. "Professor Prokhorov forges personal bonds with his students that make them personally want to strive to achieve the goals he sets for them. Moreover, his sense of humor and playfulness in class encourages students to absorb more knowledge while enjoying the learning process."

Prokhorov's fellow faculty members also praised him for both his work with students and his abilities as a leader and a colleague.

"When perspectives clash and paradigms collide, Professor Prokhorov is generally the faculty member most adept at finding common ground and facilitating debate," said Ann Marie Stock, associate professor of modern language and literatures and film studies. "He frequently leads the way in envisioning solutions to seemingly unresolvable problems."

Prokhorov grew up in the Soviet Union and received degrees from Moscow State University and the University of Pittsburgh. He joined the College of William and Mary's Department of Modern Languages and Literatures in 2002. Prokhorov's research interests include Russian visual culture, genre theory, and film history, and he has had articles and reviews published in Kinokultura, Slavic Review, Russian Review, Slavic and East European Journal, and Studies of Russian and Soviet Cinema.