Off the page: Barbara King on 'Evolving God'
When Barbara King set out to write Evolving God, she was reacting, in part, to popularized assertions that explained god in terms of human genes or human brains.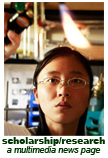 King, a biological anthropologist at the College of William and Mary,used her understanding of social behaviors involving great apes to explore development of empathy, meaning-making, rule-following and imagination, the precursors to religion. Along the way, she considers the earliest common relative of human and apes more than 6 million years ago, the intriguing, if much-maligned Neanderthals and the giant advances realized in the Stone Age. Under an umbrella term borrowed from psychology, King traces the evolution of "belongingness" through these periods until homo sapiens were focusing on otherly beings and worlds as verified by archaeological records. Whether or not apes made that transcension—that is experienced belongingness beyond the here and now—King, unlike the well-known primatologist Jane Goodall, stops short in her speculation.