Meier gets College's Duke Award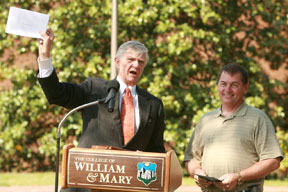 He's known as "MacGyver." The technical skill and admiration by colleagues denoted by the nickname earned staff member Tom Meier the 2008 Charles and Virginia Duke Award.
Meier, whose official title is senior electrical technician for the biology and psychology departments, seems to like the nickname. It does suits him, he can make and/or fix just about anything.
"What Tom 'fixes' stays fixed," said Oliver Kerscher, assistant professor of biology, in nominating him for the award. "His quality of work is impeccable!
Meier received the award and its $5,000 prize at campus reception May 1. The award is given annually to recognize a staff member who exhibits exemplary service and dedication to the college. During the ceremony Interim President W. Taylor Reveley, III thanked him for his commitment to the college.
"A staff member who goes above and beyond the call of duty and finds creative and cost effective solutions is truly worth his weight in gold," he said. "Tom, you are a marvelous recipient of the 2008 Charles and Virginia Duke Award."
Meier has been with the university nearly eight years. In that short time he has earned the admiration of both the departments for which he works.
"It would be difficult to believe that our department, and my research program in particular, would be half as successful if it weren't for Tom's amazing efforts. He is treasured and sincerely loved by our department and he is truly deserving of this honor," said John Swaddle, associate professor of biology.
Meier grew up on New York's Long Island. Growing up he spent a lot of time in the family's hardware store. The store, he says, taught him a lot, skills he noted were later honed by years in the U.S. Navy. Between the Navy and William and Mary, Meier worked for the marine salvage company, Global Phillips Cartner (GPC).
"Most of the skills, if I didn't learn them at the hardware I just got the book and learned how to do it," he said.
Meier's technical skills are surpassed, his nominators said, only by his amazing attitude. Swaddle added, "his philosophy and outlook on life are so refreshingly positive and helpful that I feel he embodies the William and Mary spirit."
The positive attitude, Meier's said, is easy. He loves his work.
"There's never a dull day," he added. "There's always something different."
Some of the variety comes from the myriad of projects the professors send his way, some of it Meier's manufactures himself. "I always try to learn something new every day," he said. "If it's not a foreign language – a phrase or something, something different to better myself every day."
In keeping with this quest of knowledge, Meier is steadily pursuing his bachelor's degree at the college. A degree he jokingly noted he hoped to get before he retired. Asked if he had learned something new on the day we talked he replied in typical Meier fashion, "Nope, not yet, but it's still early."
The fix-it projects range the gambit from fixing leaking roofs and malfunctioning hot water heaters to remodeling offices and recreating obscure equipment for faculty.
"Tom has rescued equipment that under any other circumstances we would have had to abandon, and intelligently designed and built structures or cabinetry, often with improvements," said Biology Department Chairman Paul Heideman in nominating Meier for the award.
Some of his colleagues noted he's like another member of the research team. He may be best known for the hundreds of wooden birdhouses he constructs each year for the biology department. Most are used in research - but some are given as gifts from the department. One such gift – built by Meier and students from the Murray Scholars program – was presented earlier this year to the college's Chancellor, former Supreme Court Justice Sandra Day O'Connor.
"Through the years, Tom has made hundred upon hundred of nest boxes for me, colleagues, and students…In fact, he has even done his own research on nest box design and has improved the design over the years – which has contributed directly to the increased success of the research project," said Swaddle.
In the short time Meier has been with the college, his colleagues say he has earned not just their respect and admiration but also their affection.
"If you don't know Tom, you should get to know him," added Kerscher.
Meier said he was "a little blown away" by receiving the Duke Award. He said he'd like to do some traveling with the money but wasn't sure what he would do with the prize money, "I haven't given it a whole lot of thought…I'd like to go somewhere, take my wife somewhere."