Whittenburg saluted as 'greatest' teacher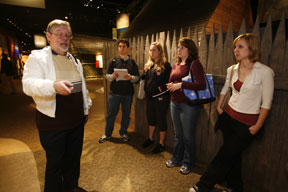 Until she came to William and Mary as part of a high school program and met Jim Whittenburg, Ashley Whitehead was unsure of which college to attend. A few weeks into the early American history program, Whitehead had no doubts.
"I knew there was no better place to study history than at William and Mary under Dr. Whittenburg's tutelage," she said. "Incorporating on-site studies of historical places, as well as making history an interdisciplinary study by creating supplementary classes in archaeology, vernacular architecture, public history and music which enrich a history major's understanding of the broader cultural context of history, Dr. Whittenburg has created a truly unique approach to learning history."
Whitehead joined with other current students and alumni recently to honor Whittenburg for his teaching abilities and the lives he's touched.
Whittenburg, William and Mary associate professor of history and department chair, received a surprise session in his honor at a Society for Historical Archaeology conference in January and a "Greatest History Teacher" salute, made possible by the Virginia Historical Society.
"It was sort of a conspiracy against me," joked Whittenburg. "But I was very pleased. It was very kind of them. They are great people."
The group who put together the tribute session included former students from as far back as 30 years ago to current undergraduate and graduate students. Each had a chance during the session to recall their favorite memories of Whittenburg and explain the influence he has had on their lives.
Whitehead recalled meeting Whittenburg as part of the Pre-Collegiate Program in Early American History, a program for high school students from across the country to earn college credits by spending the summer studying at local historical sites. Whitehead reminisced during the session how, after twisting her ankle that summer, Whittenburg pushed her around the vast, hilly grounds at Monticello.
"For an old man, that was hard," said Whittenburg. "We all had a hardy laugh."
As did Whitehead, Dave Brown ('96) said he is studying at William and Mary because of Whittenburg.
"I'm currently one of Jim's Ph.D. advisees and find myself in the program primarily because of him," he said. "I run a non-profit archaeological research foundation in Gloucester County, and Jim has always encouraged my study of both history and archaeology, particularly with its benefits to the community and to students at William and Mary and beyond."
Ann Smart Martin is currently the Chipstone Professor and director of the material culture program at the University of Wisconsin-Madison. Fifteen years ago, she was one of Whittenburg's graduate students. She credits Whittenburg with guiding her career path.
She said that because history gives little documentation of everyday life, material culture scholars have to sometimes leap into uncertainty.
"Jim Whittenburg gave me all the skills to make a case and the confidence to jump," she said. "I am fiercely devoted to this gifted teacher, mentor, coach and friend, who deserves all acclaim we students can muster."
Whittenburg began working at the College of William and Mary in 1977. While at the College, he helped create The National Institute of American History and Democracy (NIAHD), a partnership between the College of William and Mary and the Colonial Williamsburg Foundation dedicated to the study of the American past, material culture and museums. The NIAHD has become a great resource for the Commonwealth and its programs are a great recruiting tool for the College.
In addition to the recent Greatest History Teacher salute, Whittenburg's work has earned him a Freshman Advisor of the Year award, the University Chair in Teaching Excellence award, the Thomas Ashley Graves Jr. Award for Sustained Excellence in College Teaching and the William and Mary Society of the Alumni Teaching Award.
Despite these accolades, Whittenburg says the true credit belongs to his students.
"It's the students who ought to get the awards," he said. "That's what makes the experience—it's all about them. The greatest teacher in the world is helpless without good students."
He said that teaching is a student-centered occupation and what he mostly does is move things out of the way so that they can take over.
"I'd like to thank not only the students who were involved in that little prank at the SHA, but to all the students I've had here who have just made this a pleasure from beginning to end," he said. "It really is the students who make the classes go, and I've had great ones."
Whittenburg's wife, Carolyn, is not surprised at her husband's humility but is proud to have his hard work recognized by the students he cares so much for.
"I have seen a wonderful outpouring of love and respect from his students over the years," said Carolyn, director of the NIAHD. "My husband gives his heart and soul to his students, and they return this in kind."