Thomas Mann: 'Broken branch' is on the mend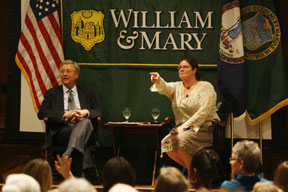 In 2006, the country witnessed an historic shift in the control of the U.S. Congress to the Democratic Party. The jury is still out on how the new congressional majority is doing, said noted political scientist Thomas E. Mann in a public forum on March 27 at the College,  but there have been signs that the "broken branch" can be fixed.
Mann, William and Mary's 2007 Hunter Andrews Fellow, spoke to a full theater of students, faculty and community members in Tucker Hall about the importance of Congress, noting that when it fails in essential functions, such as providing checks and balances to other branches, other institutions get out of sync and "the whole system falls short."
"To keep where we are, we have to criticize ourselves and our system and when it gets bad enough, try to fix it. It won't be perfect, it will break down again—and we'll have to go through the same process," said Mann, the W. Averell Harriman Chair and Senior Fellow in Governance Studies at The Brookings Institution. "That's what we're going through. We're beginning a long process of restoring balance to our constitutional system, to reviving our first branch of government—the broken branch is on the mend."
Since the November 2006 mid-term elections, Mann said Congress has been making strides to focus less on personal scandal and more on policies and programs. He said he sees signs of some depolarizing and has hope for a balancing of presidential and congressional power.
"It's been a rough patch for the country, but I honestly believe the worst of our politics has bottomed out now and we begin on a very gradual slope of upward trajectory, all stimulated by an unhappy public, where change always begins," he said. "We're beginning to see some responses and repairs."
But Mann acknowledged that not everyone is pleased with how the new majority is handling the war in Iraq.
"Some people will think it's outrageous that the Democrats don't just stop the war," he said. "My view on this is that Congress has awakened and is now prepared to raise questions about every aspect of this war and other important issues that confront the Congress."
Mann noted that problems with Congress did not begin with the Republican majority and that signs were evident as early as the end of Ford administration.
"In recognizing that there has been no golden era in American politics or American public life and that it's not supposed to look clean and lean and efficient—granting all of those things, I have to tell you the last years have been an exceedingly difficult and discouraging period in our politics and government," said Mann.
Following his speech at the forum, Mann fielded questions from attendees and signed copies of his book, The Broken Branch: How Congress is Failing America and How to Get It Back on Track (2006). Earlier in the day, he attended an introduction to American politics class, and on Monday, he met with William and Mary President Gene. R. Nichol and attended a reception and dinner in honor of his Hunter Andrews fellowship.
Mann began working in Washington, D.C., in 1969 as a congressional fellow in the offices of Sen. Philip A. Hart and Rep. James G. O'Hara. Today, he is one of the most widely quoted and well-respected analysts of American politics, and is highly-regarded by members of both parties in Congress. He is a member of the Council on Foreign Relations and author of many books, scholarly articles and opinion pieces on various aspects of American politics. He received a bachelor's degree in political science from the University of Florida and a master's and doctorate from the University of Michigan.
The Hunter B. Andrews Fellowship was established in 1998 by friends of the former state senator and William and Mary alumnus, who passed away in 2005. The fellowship program brings notable journalists, politicians and academicians to campus each year to interact with students and faculty. Previous fellows have included Washington Post columnist David Broder, who inaugurated the fellowship; Sandy Berger, national security advisor to President Bill Clinton; Tom Foley, 49th speaker of the U.S. House of Representatives; U.S. Congressman and noted civil rights leader John Lewis; New York Times columnist and author David Brooks; and journalist, editor and author Walter Isaacson.