Students camp out for chance to serve
Drowsy students, some wrapped in blankets and others napping against the walls, lined the hallways of the campus center on Jan. 30 hoping they had made it out early enough. The students were not waiting for tickets for the next big concert or sporting event. Instead, they had fought the cold and forsook sleep just for the opportunity to serve others.
The students were waiting outside the office of student volunteer services (OSVS), which was holding sign-ups for its six domestic service trips scheduled to take place during spring break. A group of six students started the line around 10 p.m. the previous evening. By 7:30 a.m., approximately 70 students had lined up for the 55 available slots. Registration began at 8 a.m.
"The students here at William and Mary have this incredible passion for service and to help others. I've worked in this office for four years now, and I'm continually surprised by the lengths that they'll go to to serve," said Lauren Grainger, assistant coordinator of the OSVS.
There were three domestic service trips offered last year, but student interest caused the OSVS to increase that number to six this year. The six will go to: Prince William Forest State Park, Va.; Petersburg, Va., as part of the Phoenix Project; Washington D.C.; Greensboro, N.C., and Charleston, S.C., as part of Habitat for Humanity; and Biloxi, Miss., to continue Gulf Coast rebuilding efforts.
"We're really excited about all of them," said Grainger. "The trip leaders have done a great job helping to plan really neat experiences. I just think all the trips will be so different. The Habitat for Humanity will be building all week, and in D.C. they will be at a different non-profit almost every day that they are there."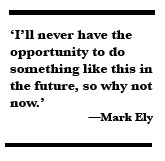 Seniors Mark Ely and Kimberly Magnowski were the first in line to sign up. Magnowski said she camped out because she knew that there would be a lot of competition for the slots.
"Part of getting out of life is giving. I think that's what life is all about," said Magnowski, who signed up for the Charleston trip.. "I got into this school, and I'm grateful that I am here. I think I have done a lot of great things on and for campus, and I want to contribute to another society that isn't right here on campus every day."
Ely said, "I'll never have the opportunity to do something like this in the future, so why not now."
Sophmores Layla Soberanis, Whitley Aamodt and Ashley Poling started camping out at 11:16 p.m. They said they could not think of a better way to spend their spring break than by engaging in service.
"We all wanted it so bad, to the point that we didn't sleep," Soberanis said. "A good thing about the trip will be we don't have to do ice breakers anymore since we bonded out here last night in the cold."
Juniors Daniel Key and Kristin Corcoran, service leaders for the Biloxi trip, were among those enlisting the potential volunteers. Neither was surprised by the enthusiasm. "I think our campus in general has an amazing tradition of service, and it's always been really strong, obviously from the turn out this morning" said Corcoran. "I think this shows that people do want an alternative to spring break where they can get more out of it. It's a way you can still go and be with your friends but at the same time be giving back and meeting members of the community. I think it's great."
Key said that he hopes that the students on his trip not only get a chance to give but to take a lot away from their experiences, as well. "Especially now that it's a year and a half later after Katrina, you think things should be back to normal, but they're not. So I think that's something that's important for people to take away, that they are needed in a service capacity and that dedication to service is really important," he said.
Drew Stelljes, director of the OSVS, said the interest in domestic service trips has risen dramatically over the past five years. "I think it's part of the unique character of William and Mary that out students have an interest in volunteering because they have an instinct that it is a benefit not only to community members but to their own personal growth and development," he said. "Our enrollment is staying steady, but the number of trips has gone from zero in 2001 to 18 in 2007 (including international service trips) with every expectation that in five years, we'll be up to 30 to 35 trips because the student interest is there."
Stelljes said that when students connect with community members and come "face-to-face" with all sorts of injustices from hunger to homelessness to poverty, it can be personally transforming.
"Direct service is the substantive link that brings curricular learning to life. When students volunteer alongside recipients of services, the connection they make is the spark that ignites a deeper commitment to service," he said. "They return to William and Mary with a desire to learn about the social issues that impact the lives of the community members they worked with. More and more students are seeking classes on social problems, non-profit leadership and community studies."
Although slots for this year's domestic service trips have now been filled, there are still opportunities for students to serve in the community. The OSVS has partnerships with 90 local non-profit agencies and a summer service program, and the sign up for international service trips will be in September.
"Students overwhelming interest in service trips is an example of the kind of student we have at William and Mary," said Stelljes. "The fact that students want so much to help others that they'd spend the night outside speaks volumes."
For more information, visit the OSVS Web site.