"Ramayana La'ar": A play for diversity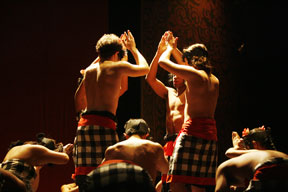 Bringing a staged version of a Hindu epic to a theatre audience at Phi Beta Kappa Memorial Hall took some courage, Francis Tanglao-Aguas, assistant professor of world and multicultural theater at the College, admitted following the successful run of "Ramayana La'ar" (Rama's Journey) in March. The presentation, a creative combination of dance, multilinguistic dialogue and evocative scoring, was billed not as a play but as a sacred performance. Judging from the record-setting audiences, the enthusiastic reviews and the lingering discussion generated on campus, the professor's courage was well-applied.

Of course, when "Ramayana La'ar" was scheduled as a Main Stage performance, there was no precedent nor even a script, there was only actor, screenwriter and filmmaker Tanglao-Aguas gambling that he could bring to fruition an idea he had been researching for 10 years.

"When I proposed it, I did not have the final product," he said. "The rehearsal was the creative process, so it was intense." Thirteen of the students who ultimately appeared in the epic had been enrolled in the professor's Asian performance class. He had to train another 35 theatre and non-theatre majors. Drawing upon relationships he had established with members of the College's multicultural organizations, he assembled both crew and cast. Referring to the choreography alone, he said, "People usually take five years to train; I gave it to our students, and they learned it within four-and-a-half weeks." As cast members and director collaborated in both a story and a performance-style that seemed foreign to many, Tanglao-Aguas found himself repeatedly asking for trust that the final product would speak to those who would view it. "I kept telling them to trust the story and the fact that 2.5 billion people who believe it can't be all wrong," he said.

Tanglao-Aguas' "Ramayana La'ar" is an interpretation of the 5,000-year-old Hindu story in which Rama, an incarnation of the god Vishnu, comes to earth to demonstrate the righteous path (dharma). Encountering numerous trials, Rama steadfastly seeks to serve the interests of others before pursuing his own quest to re-unite with his exiled wife, Sita. On stage, the the performance includes the clashes of armies, an encounter with monkey-characters speaking in a multitude of tongues and a beautiful scene of reconciliation as Rama is re-united with his wife.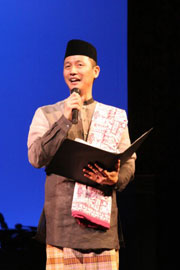 "The whole piece is a prayer for peace," Tanglao-Aguas said. "That's the irony. There's so much killing—one hour of conflict in the second act alone. But Rama honors everyone he kills. He gives them conversation."

Conversation, that is, without dialogue: That was one of many surprises facing the student actors. Said senior Adam Schartup, who was cast as Rama, "I didn't speak a single word. The action was mimed, carried forward with hand gestures." Schartup, an English major, continued, "A lot of people had no idea what they were getting themselves into when they signed up." During rehearsals, cast members spent hours going over fundamentals of South Asian performance, including the value of movement. As the students started to adapt, Schartup recalled that Taglao-Aguas threw out the script, realizing that it would "get in the way."

"As we reheased, a lot of the time it seemed that we weren't exactly sure what we were doing, but there was obviously a lot of trust that we could get across to people," Schartup said. "It was strange, it was different and it worked."

Being a member of a cast that featured students from multi-ethnic backgrounds was among the rewards of participating in the "Ramayana La'ar' production. As the group worked toward a final product, the input of students from India and from Southeast Asia was granted extra weight, but it remained a collaborative process.

Feedback received by Schartup was positive. "Even those who didn't really like the performance said that the show made an impact," he said. "We've gotten e-mails from people who said they were crying at the end of the show and from others who said they were so impressed that the College was taking on a show that was so diverse."

Tanglao-Aguas laughed when it was suggested that "Ramayana La'ar' helped bring the world to the campus. "The world is here," he said. "Diversity is not about numbers but about getting to know the people who are here. If nobody spends time getting to know one another, diversity is useless. Numbers mean nothing."

In his second year at William and Mary, Tanglao-Aguas, who grew up in the Philippines, has become an adviser to many multicultural groups. He said that he values the relationships he has made with people from various cultures, and he encourages others to "fully accept" differences because "when you tolerate something you're saying it's painful but when you accept somebody it means there is love." During his brief experience on campus, he said he has come to know the College as a "family" capable of modeling diversity for the world. "We have amazing students who come from all walks of life," he explained. "They compare with the best in the world in terms of their motivation, character, intelligence, self-motivation and integrity. These students, when given respect and space, rise up."

For Tanglao-Aguas, it seems mildly ironic that performance of "Ramayana La'ar" occured duing what appears to be a resolution of a debate about the appropriate way to present a cross in the College's Wren Chapel. Tanglao-Aguas said he was not as concerned with whether to display the cross or not to display the cross as he was with the nature of the conversation.

"What was really sad to me about the cross was how the family communicated with each other about the problem, that so much hurt was hurled," he said. "Instead of talking to make a connection, people were talking to make a disconnection."

That does not accurately reflect the College, he said. Concerning the enthusiastic turn out for "Ramayana La'ar," he continued, "Here you have 1,500 people come watch a Hindu epic that is labeled as a sacred performance. That's William and Mary!"