Phoenix Project: Social entrepreneurs see change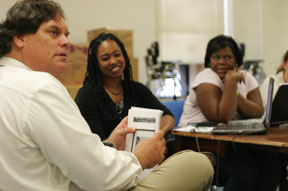 Petersburg is changing. Internally. Deep down. Increasingly, as city administrators and nonprofit leaders intensify their partnerships with the Phoenix Project, their capacity to serve and to reinvigorate their community is growing.
The Phoenix Project, which has grown during the past year from a visionary attempt at social entrepreneurship between William and Mary and Petersburg to include Virginia State University and seven other institutions of higher learning, seeks to bring the research tools of universities to communities while providing students and educators with an intense real-world learning environment. During a recent showcase of projects conducted during the summer's Nonprofit Leadership Program, it was apparent that the combined 8,000 hours of community service by 30 students from 14 universities had left city officials ecstatic.
Wayne Crocker, director of the Petersburg Public Library, had been delivered a database of potential funding sources to under-gird the building of a new $35 million facility in the city. "It's hard to put a dollar value on what they produced, but as far as what it means to our overall efforts to build a new library in Petersburg, it's like gold," Crocker exclaimed. "We'll treasure it for a long time."
Robert Dawson, Petersburg city attorney, worked with students to help update some of the city's policy and procurement codes. Remarking upon the project's principle of "social entrepreneurship," he said, "To me, everyone is an entrepreneur who is out there in terms of starting his or her own thing. What is unique is that this project can put that in a social context."
Kimberly Willis, the city's director of social services, called the "capacity building" that the students delivered to the city's service organizations invaluable. Projects such as a survey designed to indicate job-training needs and employer expectations will help the city make "long-lasting, effective changes," she said.
"Besides, the energy of the students is just amazing," she added. 'They are inspiring. They really came to Petersburg and accepted us where we were. They were not judgmental. They fit right in and became a part of our community."
The vision for the Phoenix Project largely belongs to Greg Werkheiser ('96). With tangible support and selected counsel from Gene Nichol, president of William and Mary, Werkheiser established the effort in Petersburg last year, when a dozen students from one university—William and Mary—moved to the struggling city of 30,000 residents to work with non-profit leaders. Within one short year, the effort has come to be recognized by statewide leaders as an essential component in Virginia's efforts to reinvigorate expansive segments of its society. Among those praising the project is Virginia Governor Tim Kaine, who predicted, "The Phoenix Project is going to make a big difference in Virginia. We must engage our great universities in the revitalization of our distressed communities, and we must prepare Virginia's next generation of nonprofit leadership."
By now, the Nonprofit Leadership Program is merely one segment of a project that has "gone to scale," Werkheiser explained. During the year, dozens of professors from various universities have been engaged in numerous research projects with their students on behalf of the city. Recently the city, in effect, upped the ante as it asked the Phoenix Project to help tackle four initiatives identified as key to the city's viability: (1) The Base Closure and Realignment Commission (B.R.A.C.) expansion of Ft. Lee, (2) the Local Initiatives Support Corporation (L.I.S.C.) community development efforts, (3) improving the public schools and (4) the downtown harbor project.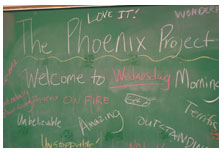 Werkheiser called the fact that Petersburg is entrusting its most-critical problems to the higher-education representatives the highest affirmation that could be received. "The community has said to the universities that we want to share with you the biggest challenges we have," he said. "That's a compliment to the universities that have stepped forward."
Werkheiser enumerated several factors that have contributed to the success of the Phoenix Project. One involves the manner in which partners relate to each other. "In many instances, a university views such a partnership as a one-way relationship—they're giving to the community," he said. Phoenix Project partners understand that in terms of teaching, research and service, they can get as much as they're giving. Another factor involves the concept of capacity building. "When we finish a project, it's not that we're leaving, it's that we've come in and done the work that will allow the organization to do more in the future," Werkheiser said.
These concepts come together under the term "social entrepreneurship." Werkheiser explained: "This leadership model is one in which students should no longer think about changing the world as a nonprofit leader or as an elected official or as a CEO. The people who will be changing the world a couple of years from now are people who are able to draw upon the best skills and relationships from all three sectors."
To Werkheiser, the model seems not only timely but essential. "The nonprofit sector cannot continue to operate the way it is," he said. "It's not sustainable, and it's not going to be effective over the long term."
Viability of the model illustrated by the Phoenix Project is close to the heart of Nichol, who attended the summer overview session for the second consecutive year. After meeting with nearly a dozen of the students who were involved, Nichol connected their work with the public-service values of William and Mary. "We're here in Petersburg thinking about challenges that we may sometimes walk right past in our own neighborhoods," he said. "Petersburg has been so fascinating for us because as we move down to the Dominican Republic, Tanzania or to South Africa, we can realize that in James City County, in Williamsburg and in Petersburg that we have the same types of challenges we ought to be facing as well." Nichol linked the involvement of the College as a social resource for Petersburg with his vision for what is expected of a "great and public" university. He also was cognizant of the impact such experiences would have on undergraduates.
"This project says a lot about what we need to be hoping for in terms of universities, not just in terms of what contributions we can make but in terms of a more powerful experience of learning that is more enabling and that is much more rooted in perspectives that are different than those you came to college with," he told the student participants.
From the perspectives of the students, Nichol's assessments were self-evident.
Kristian Obcemane ('10), who led the team that delivered the funding guide for the library's capital campaign along with a case statement as to why contributing funds would be a worthy investment, said he signed on for Project Phoenix as a way to acquire skill sets that could channel his love for service into skills that would go beyond building a house or painting a fence, "This experience has definitely affected my mindset on how to approach and handle my years left at William and Mary. It is one thing to have passion, but it's even better if there is an effective way to channel that passion," he said.
Hannah Ayers ('08), who participated in the Phoenix Project last year as well as this year, said that both the number and the caliber of the projects this summer were incredible. "While direct service is extremely valuable, I've learned to re-examine the way that we make a difference in order to take the long-term implications into consideration," she said. Her involvement also helped her to rethink the traditional ways non-profit organizations operate. "Today's nonprofit leaders incorporate business practices to make their organizations work more efficiently and effectively," she said. "Therefore, the next generation of nonprofit leaders has to learn business and entrepreneurial skills."
Likewise, Charone Dew ('08), who worked on the employment survey, among other projects, said the thing that sets the Phoenix Project apart is that its participants "see what could be instead of what currently is."
"That's a big component of being a social entrepreneur," she said. Although she would like to think that her contributions would help city residents in their efforts to address vital concerns, she said, "It's the people of Petersburg who are determined to make their city better, and that's something that no amount of work done by any organization can replace."
Dew remains uncertain as to what she hopes to do after she graduates from William and Mary at the end of the upcoming academic year. Her summer experience, however, will play into her ultimate decision. "I have been thinking about it," she admitted. "I do love community service, I love volunteering, and the first time I went to Petersburg, I fell in love with it. I guess I would do anything to be able to go back and serve."