Nelson and Sheriff reveal a messier Civil War
Scott Nelson and Carol Sheriff had a goal when they began co-writing A People at War: Civilians and Soldiers in America's Civil War, 1854-1877. They wanted to make the war "messier."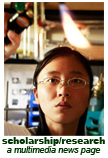 "A lot of the material on the Civil War forgets the fact that this is a conflict that takes place as much off the battlefield as on the battlefield," Nelson, the Legum Professor of History at the College, explained. Added Sheriff, associate professor of history at the College, "The … 600,000 lives that were lost is a statistic that is quoted in a lot of places but surprisingly people don't talk about death that much in histories of the Civil War."

The volume, a social history, brings the "human side" of the war back into play, according to the authors. Untidy bits of correspondence that represent soldiers complaining about lack of food to eat, families unable to keep up their farms, children losing parents and spouses being unfaithful become a tapestry that covers how great battles affected citizens and how the experience of citizens dictated major political and military decisions. "Lincoln had his 'surge' in 1863," Nelson explained; "They can't fight the war without soldiers," Sheriff said. Since the authors wrote during the second U.S. invasion of Iraq, the book's observations on occupation and the point at which peace begins, as well as its consideration of the erosion of political support dealt with both by Abraham Lincoln and Jefferson Davis, seem compellingly relevant.

The book breaks new ground as it considers motivations for post-war Reconstruction and casts light on the transnational nature of the conflict. To date, reaction has been positive. Sales have been brisk. Recently its publisher, Oxford University Press, featured it on the cover of its 2008 American history catalogue. In that publication, Walter Johnson of Harvard University praises the volume as being "bold, synthetic and creative."