Learning about autism from 'experts'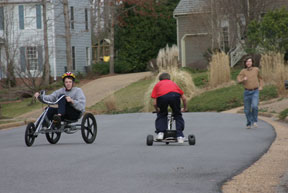 Michael tears down the street in a flash of yellow helmet and flying gravel, leaving Chris running behind just to keep the 16-year-old autistic boy in sight. Michael's brother, Zach, yells after him, telling him not to lose his new friend, but Michael's speed machine—a modified three-wheeled bike—is too fast. He nearly disappears around a corner. When Michael eventually re-appears near Zach, Chris is nowhere to be found.
"Where's Chris? You lost Chris," says Zach, 12.
"I lost Chris," confirms Michael.
"You shouldn't have lost Chris," scolds Zach.
Chris soon appears again, and the chase continues until he finally climbs on the back of Michael's bike and the two set off down a roller-coaster-worthy hill.
Learning about autism from a book is one thing. Learning about it from the back of an autistic teen's bike at break-neck speeds is something different altogether.
The workout is not the kind of homework assignment that Chris Osterhout, a William and Mary School of Education graduate student, is used to, but it's one that is giving him and students like him a unique glimpse into the world of autistic and special-needs children. Osterhout, who is studying school psychology, is part of a class on autism spectrum disorder and intellectual disability. Kelly Whalon, assistant professor of special education at William and Mary and the class's instructor, had read about a similar program at the University of Illinois. She decided to try it this year as a new optional assignment.
Called the Family Mentor Experience, the assignment asks the graduate students to spend time with local families with autistic or special-needs children to observe everyday life. The idea, Whalon said, is to allow students to learn firsthand from a family's experience. Students spend time with a family and learn what it's like for them on a daily basis to raise and take care of a special-needs or autistic child. "When they go into schools, they have that family perspective in mind and the perspective that families do know a lot about their children and that they are considered experts," she said.
This year, Whalon has seven of her graduate students participating in the optional program. All are studying school psychology or special education. They must spend time with two families, twice—once in the home of the family and once during a public outing. The students are required to keep a contact log and journal throughout the experience and to write a reflection paper at the end of the semester.
What students must not do is act as an expert or adviser during the visits, Whalon said. They are expected to learn from the families they visit, with family members serving as experts and mentors to help the students understand the challenges they face.
Although many of the students involved in the Family Mentor Experience have had some interaction with special-needs children in the past, this opportunity is something much different, said Kim Heath, a special education graduate student.
"It is an amazing opportunity to talk 'off the record' with parents about the trials of family life and school interactions," she said. "It is an opportunity for families to give input that ultimately will impact new special education teachers who are entering the educational system at a time of rapid change."
She added, "We often perceive special education as being a top-down system—meaning decisions come from so far away from the student—when actually, the people who know the student best should be the starting point that individualized education builds from. I can learn so much from a parent that can't be learned by reading a textbook."
Autism is something more and more families now have to face. According the Centers for Disease Control and Prevention (CDC), one out of every 150 8-year-olds in the United States has an autistic spectrum disorder (ASD). The Autism Society of America reports that autism is growing at a rate of 10 percent to 17 percent per year, making it the fastest-growing developmental disability.
There is no known cause for the disorder, but experts believe genetic and environmental factors may play a role.
According to the CDC, people with an ASD often have significant impairments in social interaction and communication and display unusual behaviors and interests. People with ASD can vary greatly in their thinking and learning abilities. Some may be very gifted while others are greatly challenged.
Michael, who has autism and a developmental disability, originally attended public school. He is now part of a pilot program at Williamsburg Christian Academy which teaches special-needs students practical life skills and even puts them to work in the school.
Like some other autistic children, Michael has a precise memory and is an uncanny mimic. He can still expertly imitate the accent of a Scottish school psychologist who once tested him when he was three, said his mother, Cynthia. "He hears every nuance and inflection in a person's voice and can reproduce it flawlessly," she said.
Due in large part to encouragement from Zach, Michael has developed a sense of humor and is extremely social, standing at the end of their driveway just to greet neighbors.
"He's like the mayor of Williamsburg around here," said Cynthia, herself a psychologist and consultant.
But Michael's open, friendly disposition causes Cynthia concern for her son's safety. Because Michael takes things literally, he does not have the understanding to apply general safety guidelines to all similar situations. Although Michael's memory is extraordinary, every potentially dangerous situation must be explicitly defined for him.
Michael also deals with anxiety because of his inability to interpret other people's feelings from facial expressions. Still, he loves to look at photo albums and yearbooks to study people's faces in an effort to decipher their emotions.
During Osterhout's visit to the family home, Cynthia told stories about Michael's life, explaining her son's obsession with eyeglasses and his uncanny ability to match clothes, so much so that the family has joked that he could have his own TV show – "Autistic Eye for the Neurotypical Guy."
"We tend to see things as funny as opposed to troublingly odd," Cynthia said. "There are a lot of funny things about autism, like any personality. There are some charming traits I hope will never change. He's such a genuine soul. Every morning he has a smile and tells me he loves me."
Cynthia has involved William and Mary students in her family's life for over 10 years, and she was actually the person who gave Whalon the idea for the Family Mentor Project. Both as professional and as a mother, Cynthia thinks the experience can greatly benefit both local families and students by creating an open dialogue.
"I hope this will help students achieve a higher level of comfort with students with special needs. Most students observe a lot in an academic setting but they don't ever interact, and it's important that they develop their 'voice' if they are going to work with these children," she said.
Osterhout said he is grateful for the experience the new class project has given him.
"Our professors emphasize that although a person may have a disability, he or she is not a disabled person. The Family Mentor Experience is powerful because it helps students experience this fact and therefore understand it on a deeper level," he said. "I have now seen firsthand that individuals with autism have a wide range of personality traits just like individuals without autism. It is essential for future school psychologists and special educators to learn that if we are to meet a student with a disorder, such as an autism spectrum disorder, in the schools, we can not simply write him or her off as 'autistic.' We need to recognize the student for his or her personality and capabilities as well as his or her needs."