'Horizons' students visit W&M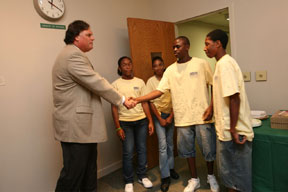 The two admissions committees had a choice to make. Four applications lay before them, each stronger in different areas. However, the university could only admit one student and wait-list one other. Just as committee members made their decisions, new information came in about one of the applicants. He had been working full time to support his family while attending school and taking advanced classes.
"Would you reconsider your decision?" associate provost for enrollment Earl T. Granger asked the two mock committees, made up of 9th-grade students from Horizons Hampton Roads. "At the end of the day, each student will have a place to go. It's just a matter of who's a good fit."
The students were among the 30 eighth and ninth graders who visited the in July to meet with admissions officials to discuss what colleges look at when admitting. Horizons is a non-profit corporation that offers "unique summer experiences to students in families with limited incomes who attend public elementary or middle schools in Norfolk and Virginia Beach," according to the organization's Web site. The program sent three groups of students to visit the William and Mary campus this month.
During their visits, students participated in photo scavenger hunts, acted as hypothetical admissions committees, heard from an incoming freshman and a rising senior on their experiences and talked with various College officials, including President Gene R. Nichol.
Nichol, who ate lunch with four students from Horizons' Norfolk Collegiate site July 17, told the students that William and Mary strives to admit students from different backgrounds.
"We think it's very important to have a vibrant and diverse community here—people from different parts of the state, people from different parts of the nation, people from all over the world, people from different backgrounds, perspectives, different kinds of economic circumstances—to help us be a more effective community," he said. "We know that our students learn a great deal from the faculty, but we also know that they learn a lot from each other."
Nichol told the students that he was impressed with the Horizons program because it gets students thinking seriously about the future and about higher education. "It gives you the skills and reminds you how important an education is—and that you have the power to achieve it," he said.
The Horizons students also recognized the importance of the information they were offered during their visits to the campus. For example, the adults who chaperoned the visit said the students were more excited about visiting William and Mary than they were about going to Busch Gardens later that day.
Alexis Dunn, 14, a rising freshman at Granby High School in Norfolk, who visited this year for a second time, was impressed by the people she had met at William and Mary.
"There are a lot of nice people here," said Dunn, an aspiring doctor. "And I like all of the unique things around here. The library is huge."
Claudette Woodhouse, 14, a rising ninth-grader at Booker T. Washington High School in Norfolk, was taking part in her second visit to William and Mary as part of the Horizons program. She said she was amazed at the history of the school.
"A lot of leaders went here. Presidents actually walked around this campus," said Woodhouse, who said she wants to be a teacher or lawyer.
Granger said that visits from groups like Horizons help the College in preparing future students as they begin their critical high school years. Having groups like Horizons on campus underscores the importance of exposure of the William and Mary experience to all prospective students and to use these visits as learning opportunities, Granger said.
"Communication, engagement and pipeline development are all critical in building the future generation of students on campus," Granger said. "We can't wait until a student is a senior to recruit. We need to start early and inform them of the opportunities that await them in college. We also need to equip them with the knowledge that will allow them to be successful and to be able to make informed decisions."