Groundsworker saves service trip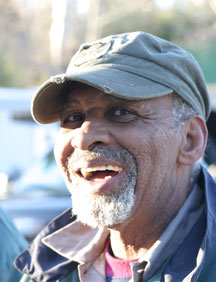 On a cold Saturday morning hours before the students sleeping in the sorority houses were awake, Conrad Brown was outside cleaning up. As he approached a dumpster, a bright pink folder that was lying on the pavement grabbed his attention. He picked it up and looked inside. There was money—lots of money! Brown, a 26-year-veteran of the College's grounds team who was performing weekend trash pick-up, counted the cash.
"Yeah, I counted it, so that when I turned it in, I would get the same count," he explained. "It was $200 in $20 bills, and lots of checks."
Brown looked around. The sorority houses were dark. He knocked on a few doors, but there was no answer. A couple of young women walked by. He asked whether they knew any of the occupants of the buildings. They said "no." Carrying the folder, he made his way over to the campus police station. After turning it in, he returned to the sorority court, where he noticed that a person was moving around inside one of the buildings. He knocked, and he told the woman who answered that he had found a folder and that he had taken it to the campus police.
Senior Jessica Chudy had dropped the folder on the previous evening. It contained approximately $1,100 in cash and checks that had been donated to the William and Mary Global Village Project during a service trip auction the previous evening at the Kimball Theatre. When she was awakened and informed that a folder reportedly had been found, she panicked. All she could think of was that her group had worked so hard for that money and, in 30 seconds of carelessness, she had lost it.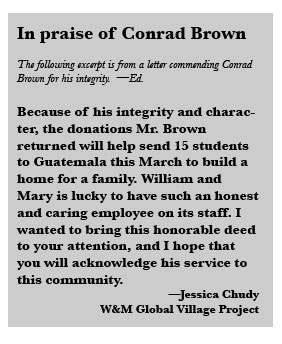 "I was freaking out," Chudy said. "I realized that I must have dropped the folder right outside my door when I was coming home. I mean, we had gotten to the Kimball about 4 p.m., we had performed, and I didn't get home until 1 a.m. I guess I was on an adrenalin rush and didn't notice that I had dropped it. The only thing going through my mind was that is like $1,100. That is one student's trip to Guatemala."
Needless to say, when she recovered the folder and all of the money from the police station, she was incredibly relieved as well as incredibly moved by one staff member's honesty. Although she met Brown at the police station that morning, she was too emotional—"I was sobbing," she said—to thank him properly. Subsequently she wrote a note to Brown's supervisor. Later, she and other students involved with the global village project baked a chocolate mousse cake in the shape of a U—"you know, as in thank U," Chudy explained—and delivered it to the facilities management offices.
"We cannot thank him enough," Chudy said. "To meet someone with that kind of integrity and character was unbelievable to us. I know that at William and Mary we talk about the honor code, but to extend it beyond the students on campus to the employees of the College is remarkable."
In the facilities services' offices, staff members have been intrigued by the sudden influx of students bringing thank-you notes and baked goods to Brown. The workers, however, were not surprised about their co-worker's honesty. Brown's supervisor, John Mattie, said, "Conrad has always shown a lot of integrity. He's just a great guy. When he found the folder, I'm sure he thought about it and did the right thing."
Hearing that comment, Brown replied, "Yes I thought about it, but what I thought about is where I should take it." Reminded that, in a similar situation, other people may have been tempted to keep the folder, or at least the cash, Brown said matter-of-factly, "That did not cross my mind. It wasn't my money. I hadn't earned it."
For Chudy, Brown's return of the folder containing the money speaks to the fact that the William and Mary community is all about sharing in service.
"Ultimately it's about helping others," Chudy said. "Whether it's the fact that Conrad found the money and gave it back to us, or whether it's the fact that we're going to use it to help a community in Guatemala, it's all the same thing. It's about helping one another."