College admits diverse class for 2011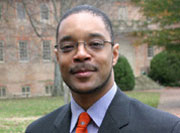 The College of William and Mary has accepted a record number of first-generation college students among its equally diverse and academically excellent group of admitted students for the Class of 2011.
"Admittedly, we are very excited again this year about our ability to build upon previous successes in admitting one of the most diverse classes in the College's history," said Earl T. Granger, the College's associate provost for enrollment. "As we celebrate the class, we also recognize that there are students for whom William and Mary is not a perceived viable option. We remain committed to ensuring that all students and families are aware of William and Mary."
The College's Office of Undergraduate Admissions received a record 10,845 applications this year. Letters of acceptance were recently mailed to 3,577 students, including 938 students of color, comparable to 945 last year. Of those being offered admission this year, 270 are African American, 375 are Asian Americans, 258 are Hispanic Americans and 35 are Native American. The number of first-generation students admitted to the College jumped significantly from 331 last year to 375 in this year's group.
The admitted students also continue William and Mary's strong tradition of academic excellence. The middle 50th percentile on the SAT for students admitted for the fall of 2006 was 1310-1470, identical to the middle 50th percentile on the combined math and critical reading scores for the students admitted this year. Additionally, 87 percent of the recently admitted students who have a rank in class are ranked in the top 10 percent of their high school classes, an increase from last year.
"The strength of the students we admitted this year, as indicated both by their academic credentials and by their range of talents and backgrounds, makes all of us in the admission office very excited about next year's incoming class. The competition was especially fierce, but this outcome is especially gratifying," said Henry Broaddus, the College's dean of admission.
The College expects to enroll an entering class of approximately 1,350 students in the fall. Among those who have already accepted admittance, the Class of 2011 will include a wide variety of interests and backgrounds. Among those who have already committed to enroll is Darryl Stephens, a Richmond high school senior living in a group home but working to fulfill his dream of becoming a pediatric neurosurgeon, who was highlighted in a series of Richmond Times-Dispatch articles. College President Gene R. Nichol appeared at Stephens' school earlier this year with admission officials to surprise the student with a hand-delivered letter of acceptance.
The Class of 2011 will also include a student who founded an organization that raised $40,000 for breast cancer research, a student who races steam engine locomotives at a local historical society, and a student who organized a game between the Philadelphia Eagles and his school faculty members. Other students who have received letters of acceptance for the fall include a banjo player, a female captain of a men's golf team and a real estate appraiser.
"As a college community, we look forward to welcoming another dynamic and engaged class this fall," said Granger. "We are convinced that the best continues to get better and that we will benefit from the diversity of the new students joining us."
Related content