Tutu challenges graduates to partner with God
When God sees injustice and oppression in the world, he does not send lightning bolts to strike down the perpetrators, Archbishop Desmond Tutu told more than 1,900 graduates during his commencement address at William and Mary Hall on May 14. Instead, God usually sends out young people to address the wrongs, Tutu said.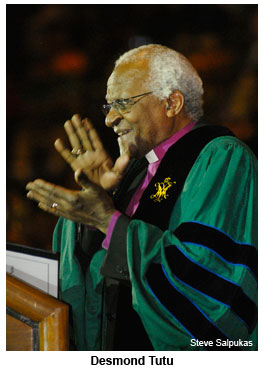 Tutu, who received the Nobel Peace Prize in 1984 for leading the nonviolent movement against apartheid in South Africa, explained, "When God sees someone hungry, he wants to feed that person, but God doesn't do that by hamburgers floating down from heaven." If hungry people are to be fed and if naked people are to be clothed, it is because human beings have agreed to work with God, Tutu said. He charged the graduates to work toward the "more gentle world" that is the hope of God, a world in which children grow up playing together rather than becoming child soldiers, or sex slaves or exploited laborers, in which women are respected as equals, in which people are not discriminated against because of the "biological irrelevance" of race, in which war becomes unknown and in which gays and lesbians are not treated as if they are half human.
During his speech, Tutu alluded to a recently published report indicating that students at the College donated more than 300,000 hours of service to the local community. "God is rubbing both hands together in appreciation," he said. He applauded young people in the United States who in the past spoke out against the war in Vietnam and who helped change the moral climate against the injustice of apartheid in his homeland of South Africa. He encouraged students to continue to speak out against the current war in Iraq, suggesting that a fraction of the moneys spent on the military action there could feed and educate multitudes of people throughout the world.
"God is asking, 'Help me realize my dream, that one day my children will wake up and realize they are members of one family,'" Tutu said. "You can be human only together. You can be prosperous only together. You can be safe and secure only together," he said.
---
'When God sees someone hungry, he wants to feed that person, but God doesn't do that by hamburgers floating down from heaven.'

—Desmond Tutu
---
Tutu shared the commencement podium with a series of speakers, including the College's chancellor, former Supreme Court Justice Sandra Day O'Connor, its president, Gene R. Nichol and one of its graduates, Matthew Scranton. Each mixed humor, acknowledgements of Mother's Day and appreciation for what the graduates have accomplished as they used their remarks to send them into the next phase of their lives.
In presenting a welcome, O'Connor challenged graduates to "use your knowledge acquired here to work at work worth doing, to try to build bridges for those who follow you, to find solutions to our nation's problems and to make a difference around the world. The world needs you," she said.
Scranton encouraged graduates to remember the camaraderie fostered at their alma mater even as he anticipated what they would accomplish in the future. "I believe in you. I believe in us," he said. Suggesting that their accomplishments might lead them to the places of influence and respect similar to those achieved by the other speakers, he said, "Who knows, there could be a religion major out there who one day goes from undergrad to archbishop. One of you Morton-loving government majors could wear the Supreme Court robes someday. And, down the road, one talented football player with a booming voice might just become a much-loved college president."
Nichol offered the graduates "10 good wishes" for their coming years. Included were his observations that "leaders are meant to be the custodians of our ideals," that "you cannot have a powerfully developed sense of justice without a powerfully developed sense of injustice," that "you make a living by what you get but you make a life by what you give," and that "hope is not just a prediction of success, or a description of the world you survey, but a way of living, a predisposition of the heart."
"As you depart," Nichol said, remember that "the College is not a Wren Building or a Sunken Garden or a Crim Dell or a Yule Log or even a Candlelight Celebration—it is, instead, an unvanquished movement of the spirit, an unyielding habit of the heart."
During the ceremony, Tutu was presented with an honorary doctorate of public service, and Willard A. Van Engel, a founding professor of the College's Virginia Institute of Marine Science, was awarded an honorary doctorate of science. Among the graduates were 1,270 individuals who had earned bachelor's degrees and approximately 770 who had earned advanced degrees.