Three William and Mary professors receive state's top award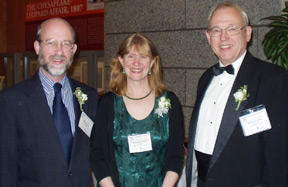 Three faculty members at the College of William and Mary have received the Commonwealth of Virginia's highest honor for professors of the colleges and universities in the state.
Melvin Patrick Ely, the Newton Family Professor of History at the College; David Lutzer, Chancellor Professor of Mathematics; and Margaret Saha, Class of 2008 Professor of Biology, were among 15 statewide recipients of the 2006 Virginia Outstanding Faculty Awards. The awards are administered by the State Council of Higher Education for Virginia (SCHEV).
"We're proud beyond ready description to know that SCHEV and the Commonwealth share our extraordinarily high opinion of Mel, David, and Margaret," said William and Mary President Gene R. Nichol. "Like the many Outstanding Faculty winners from years past, they are the very heart of our College."
William and Mary is one of two institutions in the state to have three faculty members recognized. Since the annual awards program began 20 years ago, 29 faculty members at William and Mary have received the honor – the most of any college or university in the state.
"All three of these individuals – Mel Ely, David Lutzer and Margaret Saha – represent the very best of what our faculty offer this campus and our students," said Provost P. Geoffrey Feiss. "They are dedicated teachers and mentors, as well as committed researchers and scholars. And, I am pleased to add, each of these faculty members has contributed in substantive and important ways to faculty governance and outreach to the citizens of the Commonwealth. They are truly the reason why William and Mary is such a special place."
The Virginia General Assembly and governor created the awards in 1986. Since the first presentation in 1987, 232 faculty members in Virginia's colleges and universities have been honored. This year, 15 faculty members from across the state were selected from a competitive pool of nearly 90 candidates who were nominated by their peers at Virginia's colleges. Statewide, there are roughly 11,000 full-time faculty members. Winners of the award must demonstrate a record of "superior accomplishments in teaching, research and public service." The recipients were honored Thursday evening during a ceremony with Gov. Timothy M. Kaine.
Photo: Ely (left), Saha and Lutzer received  Oustanding Faculty  Awards from the State Council of Higher Education for Virginia.

Melvin Patrick Ely
Few professors in the history of the college have enjoyed the type of public acknowledgement and recognition that has been accorded to Melvin Patrick Ely for his 2004 book "Israel on the Appomattox: A Southern Experiment in Black Freedom from the 1790s Through the Civil War." Just as impressive, however, is Ely's "consistently brilliant" record in the classroom, according to his colleagues and students. Ely teaches the history of the South and of African Americans.

"I have seen all of his student course evaluations since he joined us in 1995. They do not come any higher," James L. Axtell, the William R. Kenan Professor of Humanities in William and Mary's department of history, wrote in recommending Ely for the award. "His personal graciousness and respect and his intellectual adroitness allow him to address a class as if he were addressing each member individually."

Last year, Ely was awarded the prestigious Bancroft Prize in American History for "Israel on the Appomattox," which tells the story of free African Americans in one Virginia county and their relations with whites and enslaved blacks. The Bancroft is one of the highest honors a book of history can receive and Ely became the second faculty member to win the award while at the college. Just last month, the American Historical Association (AHA) awarded Ely with two honors – the Albert J. Beveridge Award for the best book of 2004 and the Wesley-Logan Prize.

Ely credits his students with helping shape his scholarly work. He's built lesson plans – and entire courses – around his own research discoveries. Ely said education in his classrooms works both ways – for the students and professor.
"Not a semester goes by in which my students don't advance my thinking about my own discoveries and push me to convey my results more clearly," Ely said in his nomination statement. "There are many passages in my books that took shape in part during dialogues that unfolded in my classes."

In addition to his classroom and scholarly accomplishments, Ely has become one of the college's most active participants. He has served countless times as a speaker to prospective students and guidance counselors and also has been a leader in recruiting minority faculty. He was a charter member of the college's committee on diversity. Before coming to William and Mary in 1995, Ely taught for a number of years at Yale University, where he was awarded both the Prize for Outstanding Scholarly Publication and Research and the Prize for Teaching Excellence. He also has served as a Fulbright Professor of American Studies at Hebrew University of Jerusalem in 1998-99.

David Lutzer
David Lutzer came to William and Mary in 1987 as Dean of Arts and Sciences. Lutzer served in that post until 1995 when he made the rare return to academics from administrative duties. In the classroom, Lutzer is consistently ranked in the top of his department by his peers and students alike. He received the college's Thomas Jefferson Award in 1995.

In an evaluation of his teaching, one of his students wrote, "What an amazing professor! Hardest math class I have ever taken, but I would take it again just to have him as the professor. Amazingly helpful … He would not let me leave his office until he was sure I understood and that I was confident."

Lutzer's academic specialty is the mathematical discipline of topology with specific interest in ordered spaces. Over the course of his career, he has published 77 refereed papers and 2 edited books on the topic. Recently his research has focused on the application of domain theory topology, a concept more commonly seen in computer science.

Lutzer has served the campus community in other capacities as well. He is credited with guiding the college to a new curriculum, creating the freshman seminar program and fostering William and Mary's Research for Undergraduates (REU) program during his tenure as dean – programs which are still in place at the college today. In the late 1990s, Lutzer served as vice-president and then president of the faculty assembly. He has also served on numerous departmental committees.

Off campus, Lutzer chaired the conference board of the Mathematical Sciences 2005 Survey Steering Committee as well as the Mathematical Association of America Science Policy Committee.

Margaret Saha
Margaret Saha is demonstrably one of the most productive teachers and researchers on any college campus in the United States. She is a 1995 recipient of the National Science Foundation Presidential Faculty Fellowship, an honor bestowed on only 20 researchers each year. In her 12 years at William and Mary, she has been an author of 36 papers in well-respected journals and has secured $1.2 million in research grants on which she was the sole principal investigator. In addition, Saha was co-principal investigator on many more grants, including a Commonwealth Technology Research Fund grant, "Bringing the Future of Bioinformatics to Virginia."

A developmental neurobiologist, Professor Saha's research centers around the question of how cells acquire their specificity and regional identity during early vertebrate embryonic identity. Her labs have probed a number of interrelated areas of investigation: patterning of the early vertebrate nervous system, development of vasculature and in vivo imaging of biologically important molecules.

Her contributions as a teacher and mentor rival her successes in the lab. She has taught an array of courses, ranging from large undergraduate lecture and lab-based classes to advanced, specialized graduate-level work. An innovator in the classroom, she has introduced students at the most elementary levels to the most advanced techniques. For example, Saha developed an exercise for freshmen in which each student isolates his or her DNA, amplifies it using the polymerase chain reaction, sequences the fragment and analyzes it using the most current bioinformatics approaches. The curriculum in the biology department has benefited from two consecutive $1.6-million Howard Hughes Medical Institute Undergraduate Science Education grants, for which she serves as author and program director.

Saha's hallmarks are the blending of teaching with research and employing other disciplines to enhance biology. Since 1993, she has mentored 10 undergraduate co-authors and 22 undergraduates who have presented work at scientific meetings.