Religious freedom among topics for O'Connor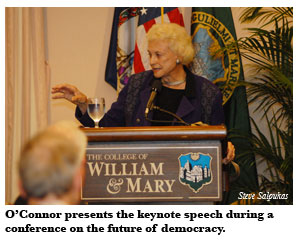 Religious freedom and judicial independence dominated two talks given by William and Mary Chancellor and retired Associate Supreme Court Justice Sandra Day O'Connor during a visit to campus earlier this month.
Without a clear boundary or definite line, Supreme Court rulings on religious freedom can be compared to Thomas Jefferson's "serpentine wall," O'Connor told an audience of about 400 people on Oct. 8 during a seminar at the Kimball Theatre.
Referring to the serpentine wall built by Thomas Jefferson at the University of Virginia, O'Connor acknowledged that Supreme Court rulings on the separation of church and state have not followed a straight line. However, the retired Supreme Court Justice said the system of separating church and state has worked well for this country.
"I think the court has tried to walk this fine line but it's hard to draw the line with any precision," O'Connor said during a panel discussion on religious rights and freedom. The event was sponsored by William and Mary Law School's Institute of Bill of Rights Law.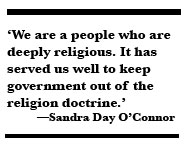 Although each case does not provide a clear cut line or boundary for the separation of church and state, the system has worked as it was intended—to protect the free exercise of religion and barring government from the establishment of a single religion, O'Connor said. Both clauses are critical to religious freedom, she added.
"Why would we trade a system that has served us so well for another that has served others so poorly," O'Connor said. "We are a people who are deeply religious. It has served us well to keep government out of the religion doctrine."
That's not the case around the world. O'Connor referred to a case in Afghanistan where someone was sentenced to death for converting from Islam to Christianity.
"I do think we're lucky in this country to let private religious exercise flourish," O'Connor said. "We have generally kept religion a matter of individual consequence and not a matter for the prosecutor or bureaucrat."
During the seminar, O'Connor gave opening remarks and then participated in a panel discussion that included USA Today journalist Joan Biskupic, who wrote a biography of O'Connor; Marci Hamilton, law professor at Yeshiva University's Cardozo School of Law and former law clerk to Justice O'Connor; and David Holmes, a noted religious studies author and Mason Professor of Religion at William and Mary.
The chancellor's speeches were part of a three-day visit to campus where O'Connor, who was invested as the College's 23rd chancellor last April, participated in two academic seminars in addition to meeting with students and taking part in a conversation with the campus community, including taking questions from a student panel.
Also on Oct. 8, O'Connor gave the keynote speech at The Conference on the Future of Democracy, an event sponsored by the College's department of philosophy. The two-day conference gathered some of the country's most acclaimed philosophers, historians, lawyers, social scientists and public leaders to address this year's theme of "Human Development, Religion and Cultural Values."
O'Connor said there are three principles that are essential for a judiciary to establish the rule of law—independence, integrity and competence.
"If judges are going to make important decisions, we think they need to be independent," O'Connor said. "When the power to make the law is separated from the judicial system, we strengthen the rule of law. If the judiciary is going to perform its role, it has to be protected from reprisals for carrying out its duties."
Judges are sometimes forced to make unpopular decisions or issue rulings that go against public opinion or the opinion of the legislature, O'Connor said. For example, she cited Brown v. Board of Education, which prohibited segregation in public schools.
"It had to be enforced, and it was left to federal judges to make it work," O'Connor said. "Those judges showed tremendous courage. We owe them a lot."
She added, "We got beyond that because of a branch of government that could enforce the Constitution. That is a very key ingredient to a democratic society."